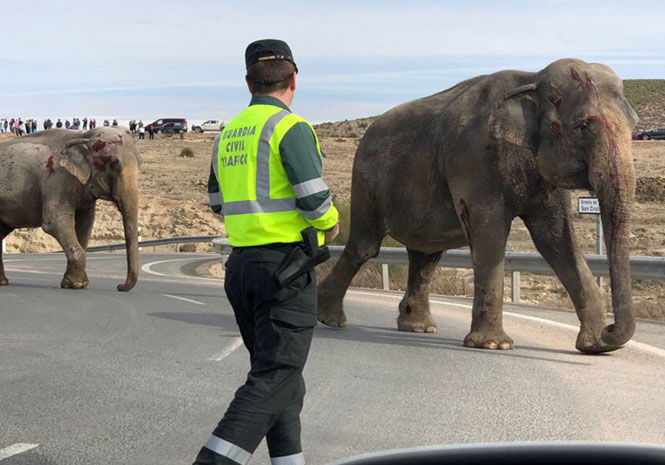 A LORRY transporting elephants has overturned on a motorway in Spain leaving one dead and two injured.
The accident forced the closure of the A-30 between km 22 and 23 in Pozo Cañada, Albacete while the road authorities dealt with the situation.
Initial reports of no injuries to the beasts were, sadly,  unfounded and the DGT has confirmed that one elephant died at the scene and two others were injured.
The road has now been re-opened to traffic.
Según las investigaciones preliminares, el accidente del camión cargado de elefantes se ha producido al adelantar éste a un vehículo de transporte especial y al incorporarse en el carril derecho se ha producido el vuelco. Atestados de la ATGC de Albacete investiga el accidente. pic.twitter.com/Np0jbX0qQl

— Gregorio Serrano (@Gserrano_DGT) April 2, 2018
Se restablece la circulación en la A-30, pk 22. Felicidades a la Jefa de Tráfico de Albacete, Agrupación de Tráfico de la @guardiacivil, Bomberos y empresas colaboradoras por la eficacia y rapidez en la apertura de la autovía. pic.twitter.com/KxvgFnVM7O

— Gregorio Serrano (@Gserrano_DGT) April 2, 2018
Se está procediendo a la asistencia y evacuación de los elefantes heridos en el accidente que ha tenido lugar en Albacete. De los cinco paquidermos hay uno muerto y dos heridos. En breve de restablecerá la circulación en la A-30 en el pk 22/23. pic.twitter.com/fhGypNDYGm

— Gregorio Serrano (@Gserrano_DGT) April 2, 2018