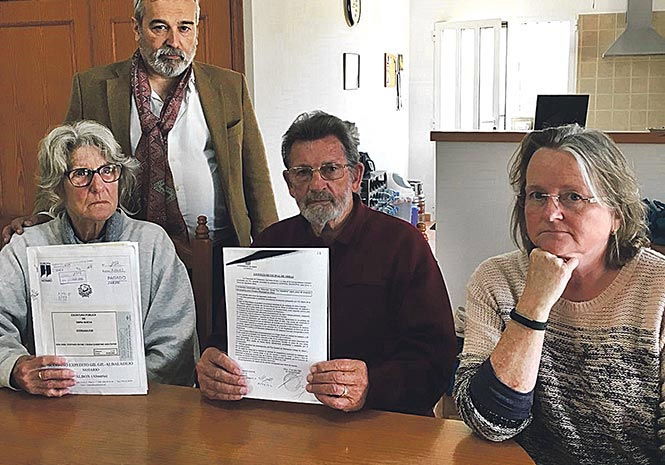 AN elderly British expatriate couple's Albox house could be torn down due to a change in the law voiding their planning permission.
The Junta de Andalucia is currently trying to get the home demolished. The owners said they had several documents proving it was legal and that it had been taxed.
Noel and Christine Payne, 76 and 73 years old respectively, said they had a licence of first occupation signed in 2003 by the then mayor of Albox Francisco Granero. The papers stated their property in the Los Guillenes area was in line with regional planning laws.
"We bought the house in 2001. Before that we went to the town hall to ask about a construction permit and they told us there would be no problems," the couple said.
Mr and Mrs Payne were visited by police on Christmas Day 2009 who told them their house was illegal and the legal process was underway for it to be demolished. 
Abusos Urbanisticos Almanzora No (AUAN), an expat advocacy group, said changes to regional planning regulations on rural land meant that document became invalid.
Albox Town Hall had informed the Junta the house could be granted legal status. The Junta maintains they are not buyers in good faith and have requested local authorities act on their demolition request, according to reports.
Maura Hillen, the president of AUAN, told Euro Weekly News she did not understand the Junta's position.
"We have been dealing with the Junta for years and have been working to try and get the law changed," Hillen said.
The AUAN president added the couple had been trapped in the "mindless bureaucracy" of the law which she added should be there to serve and not to punish people.
"Mr and Mrs Payne did everything in their power to make sure their house was legal. But by the time planning permission was granted changes to the law were already going through.
"The Junta should think about how changes in the law will impact on the lives of people like the Paynes," Hillen added.
Christine Payne said: "We looked into everything; we checked the licences and permissions. We were wrong to do so. It makes no sense."
The news comes as the Priors, a British couple, were awarded compensation this year after their house was torn down in similar circumstances in 2008, although they failed to win what they believed was due.