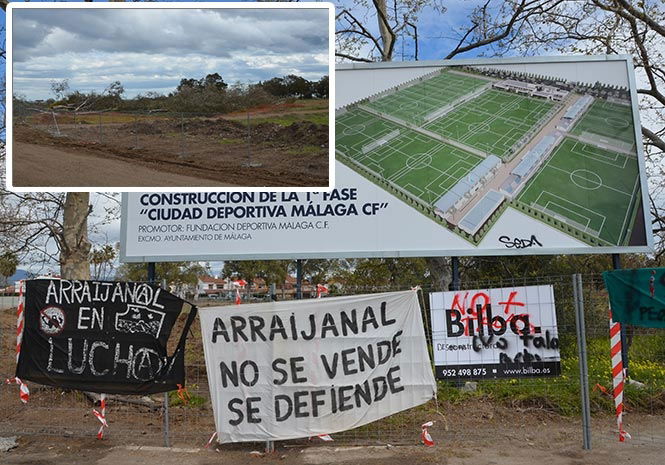 A €6.5 MILLION scheme to build a new academy for Malaga Football Club behind one of the Costa del Sol's last virgin beaches has sparked outrage.
Critics say the project is illegal and that regional and European laws are being ignored.
It comes after environmental groups filed official complaints with the Guardia Civil and Junta de Andalucia regional government after bulldozers and diggers moved into the 108,000-square metre plot at Arraijanal, between Malaga City and Torremolinos, felling tens of trees before workers fenced the area.
And the move triggered fury among residents, biologists and nature lovers, with hundreds descending on the site and some camping there permanently for the last two weeks.
An environmental impact analysis was allegedly conducted without an archaeologist present when official studies dating back to the late 1980s show that the plot houses important Roman remains.
It is also home to a rich variety of wildlife, with several endangered plants and 167 bird species recorded at the site according to a study by the University of Malaga.
But activists say they have been unfairly slammed for trying to stop the scheme.
Mari Cruz of the Ciriana nature protection group, speaking exclusively to the Euro Weekly News, said: "We are in favour of the academy because it will generate important income for the area, we just don't want it here because of the important flora and fauna, plus the archaeological remains.
"What is happening here contravenes EU law, no proper mapping was done for the environmental impact analysis, it was just accepted."
An online petition on the website Change.org has attracted almost 65,000 signatures so far, as the fight for Arraijanal appears set to rumble on.
Officials at the football club have thus far been unavailable for comment, but sources have reportedly assured local media that it has 'all the legal permits necessary to complete the first phase' of the project.