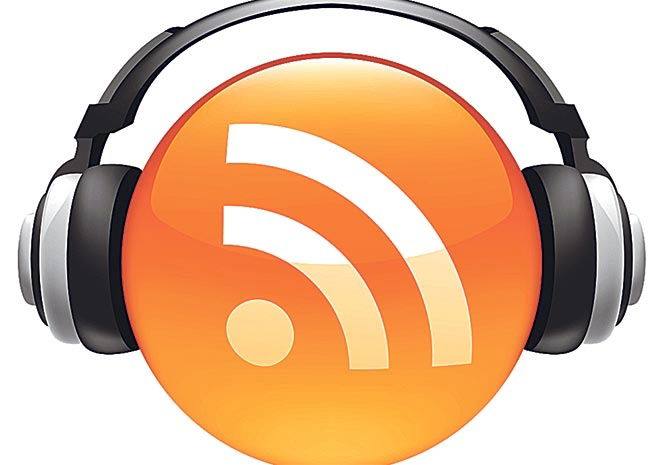 Mea not quite so culpa, I have to confess, and she's definitely the pod one out (sorry), but my own consumption does certainly max out at three or four a day.
My listening life changed radically when keeping my butterfly mind topped up during fallow periods suddenly meant I didn't have to put up with whatever dross was on the radio at the time, but instead a chosen programme I could actually control as my own DJ. 
'Women's Hour' discussing hysterectomies might have been all well and good mid-morning when there was nothing else on, but podcasts meant I could now listen on demand to Melvyn Bragg discussing the finer points of three-toed newts or quantity surveying. And I could hit the pause button so as not to miss a riveting second of it. 
Initially we could tape radio programmes directly off-air onto cassettes. The techno breakthrough came with the iPod 17 years ago, then MP3 players and today there are two-thirds as many smartphones in the world as there are people. 
Now four billion podcasts are downloaded each year and rising, with sensible users (unlike our Canadian lady or indeed me) spending an average of four hours a week listening to them.
In the western world, more people listen to podcasts than go to the movies. An American statistic John Lennon would have loved says there are more regular podcast listeners than Catholics. 
Where original adopters were typically under 25, now the fastest growth is among the so-called 'silver surfers', those of us somewhat closer to our sell-by dates. 
Downloading (mostly free) pods straight off the web is the work of seconds to an MP3 player or increasingly now, a smartphone. And almost all will let you interrupt and pick up where you left off again at will, freeing you forever from the shackles of broadcast schedules.
There are hosts of apps for finding and playing podcasts. and for the latest pod experience, this year's 'next best thing' in tech, smart home assistants like Amazon's Echo and Google's Home can serve up unlimited podcasts on demand.
For the moment I'm stuck with downloading them straight off the web, as not all of us are (yet) blessed with a smart home assistant.
I was going to drop in a gag here about my wife fulfilling that role, but on reflection it could cost me my dinner. 
Taking pod luck
TYPE 'podcasts' into your browser and prepare to be swamped. 
A good place to start is with the traditional broadcasters, who all now package their output into free podcasts for downloading.
The BBC is a great source (http://www.bbc.co.uk/podcasts), with simply hundreds free for the grabbing, all in the ubiquitous MP3 format which any player or phone can handle. 
Other broadcasters like America's NPR (www.npr. org/podcasts/), or Australia's ABC (www.abc.net.au/radio/podcasts/) have their own treasure-troves. Services like Apple's iTunes have pages and pages of them. If you 'subscribe' they will even be downloaded automatically to your player without human intervention.
So all you have to do, as Shakespeare so famously said, is 'lend me your ears'. Perhaps adding headphones for domestic harmony.