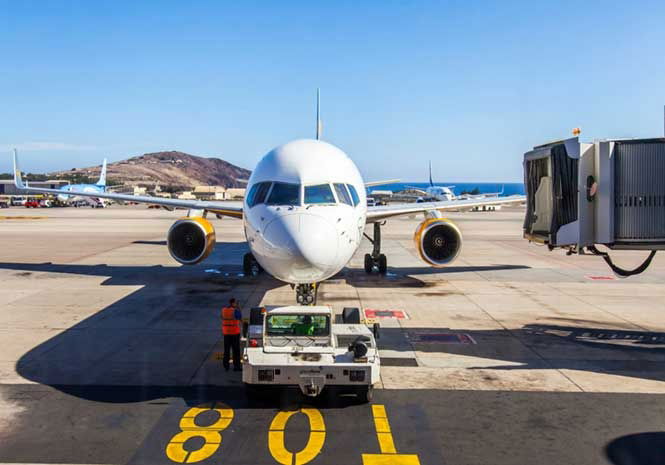 DELAYS and possibly even cancellations of flights between the UK and Spain may be expected as French air traffic controllers strike on Thursday, March 22.
Ryanair has just issued a statement saying, "We regret to advise customers that due to an air traffic control strike in France on 22 March 2018, we have been forced to cancel some flights.
"Affected customers have been notified via SMS and email to the contact details provided at the time of booking.
"Customers may also monitor their flight status online
"Unfortunately, further flight delays and cancellations are likely and customers are asked to please monitor this notice which will be updated throughout the day. 
"Ryanair sincerely apologises for any inconvenience caused by these unjustified ATC disruptions which are entirely outside of our control."
During a French air traffic control strike in October, there was massive disruption in the skies when  Ryanair cancelled more than 100 flights to or from Spain.
Europe's largest airline association has renewed its call for  new measures to minimise the effect of French air traffic control strike action on travellers.
Thomas Reynaert, Managing Director of A4E said, "With two-thirds of all European ATC strike days taking place in France, European and French policy-makers need to implement measures capable of minimising Air Traffic Management disruption's impact on travellers.
"More than 250 strike days since 2004 are enough – we cannot allow these well-paid air traffic controllers to restrict the rights of millions of European passengers."
And today Ryanair called on the French Government and European Commission to take immediate action to prevent the skies over Europe being closed yet again  by French ATC unions.
The airline urged consumers to sign the A4E "Keep Europe's Skies Open" petition, which will be presented to the European Commission when a million signatures are accrued.
EU airlines have repeatedly called upon the Commission to introduce three simple measures which would alleviate the impact of these frequent ATC strikes on Europe's citizens:
(a) Require French ATC unions to engage in binding arbitration instead of strikes
(b) Allow Europe's other ATCs to operate overflights over France while their unions strike
(c) Protect French overflights (under minimum service obligations) during French ATC strikes
Ryanair's Kenny Jacobs said, "Yet again, thousands of European consumers will have their travel plans disrupted by a tiny group of French ATC unions going on strike this week. 
"We again urge European consumers to sign the A4E online petition, Keep Europe's Skies Open, (www.keepeuropesskiesopen.com) to help protect Europe from repeated disruption by ATC unions. Enough is enough."
We regret to advise customers that due to an air traffic control strike in France on 22nd March 2018, we have been forced to cancel some flights.

Affected customers have been notified via SMS and email. For live flight status updates, please see here: https://t.co/uV4uHI9GZJ pic.twitter.com/qa0KQDqSsL

— Ryanair (@Ryanair) March 21, 2018
French Strike today at 7pm UK time to Friday 5pm UK time impacting our programme. There will be air traffic restrictions across our network and we will inform any affected customers directly. Please check our ✈️ tracker for more information: https://t.co/UdGk5rDdLD pic.twitter.com/Lmo5skJhjV

— easyJet (@easyJet) March 21, 2018
Travel Advice: National strike action in France from Wed 21st March 1800hrs – Fri 23rd March 0500hrs.
For more information and to see your options click here: https://t.co/aFb2DWkb7h pic.twitter.com/6kLHNXSkjM

— Flybe ✈ (@flybe) March 21, 2018
Travel Advice: National strike action in France from Wed 21st March 1800hrs – Fri 23rd March 0500hrs.
For more information and to see your options click here: https://t.co/aFb2DWkb7h pic.twitter.com/6kLHNXSkjM

— Flybe ✈ (@flybe) March 21, 2018