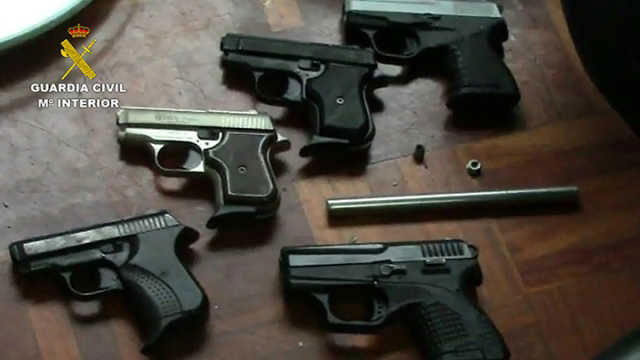 IN an investigation that has taken almost seven months to complete, officers from the Guardia Civil have arrested an illegal arms dealer and seized a number of firearms.
Having becoming aware of a number of transactions involving illegally held firearms, a squad was formed to track down the arms dealer and the investigation concentrated on the area of Logroño in La Rioja.
The main suspect was a 52-year-old local man who it was believed had at least 20 guns obtained in Spain and more recently from the Czech Republic with authorities in that country confirming their belief that the dealer had taken delivery of at least three firearms from sources there.
In addition to the guns, the investigation revealed that the man had acquired large quantities of ammunition, as well as steel bearings of various calibres that would allow him to make the ammunition even more deadly.
Once sufficient evidence was collected officers raided two addresses in the area and discovered a horde of illegal firearms and gun making equipment.
19 pistols, three rifles, spare parts, ammunition and gun making equipment were seized alongside computer equipment and documents.
Some of the pistols recovered were originally manufactured to fire blanks but the arrested dealer had machined out the barrels to turn them into viable weapons.