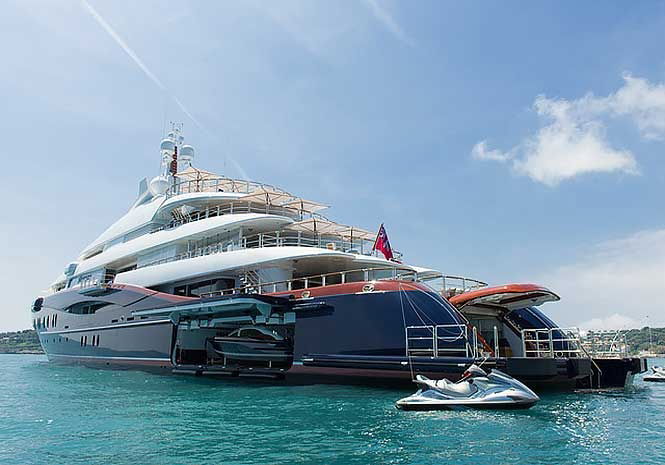 SEARCHING for a discreet yet fabulous holiday? One that is a destination and a conveyance at one and the same time?
Need to take the whole family several friends and their families too? Looking for the height of luxury, the epitome of service, huge interior spaces as well as a close and intimate connection to the ocean?
May I suggest the yacht NIRVANA.
Completed by Oceanco and delivered to her owner in the spring of 2012 then presented to the world at the Monaco Yacht Show (the premier superyacht show of the world) that September.
NIRVANA at 88.5 metres is a striking, elegant and exclusive mega yacht with modern lines and contemporary style.
It features six enormous decks and offers an impressive 150 square metre owner's suite comprising study, lounge, lobby and private exterior deck area with whirlpool.
A further five guest cabins, a 3D cinema, a fully equipped gym, a 7.5-metre long oval pool and whirlpools with panoramic views are just a few of the massive superlatives of this superyacht.
NIRVANA's six decks are connected by the main stairwell and an extraordinary six-person glass lift, which is entwined in a striking Balinese stainless-steel woven art piece resembling a bubbling whirlpool. This sculptural feature is a focal point from all levels of the yacht.
Two vivariums act as a room dividers – between the salon, dining room and a cosy separate sitting room – and are home to live and active with reptiles – a chameleon, water dragons, bearded lizards, turtles and exotic frogs.
The timeless Sorgiovanni designed interior mixes various distinctive and exceptional materials, including bamboos and textured leathers, in imaginative and inspiring ways.
NIRVANA accommodates an experienced crew of 24 in an exceptionally friendly layout enabling the efficient and discreet fulfilment of any and all her guests' requirements.
Guests are close to the sea and the excitement and involvement is enhanced through the garage which can hold a large array of tenders and water sports equipment.
A water sports room holds diving equipment and a drying cabinet for wetsuits, with immediate access to the sea through the lower lobby access. Here the door opens up flat onto the water to create a small beach club platform.
Charlie Birkett and Gary Wright together with their professional team at Y.CO (www.ycoyacht.com) are the brokers for numerous mega yachts as well as NIRVANA.
This winter NIRVANA is cruising in the Indian Ocean, yours for a charter of just €900,000 per week.
• Nick Horne, Freelance correspondent, London, England.