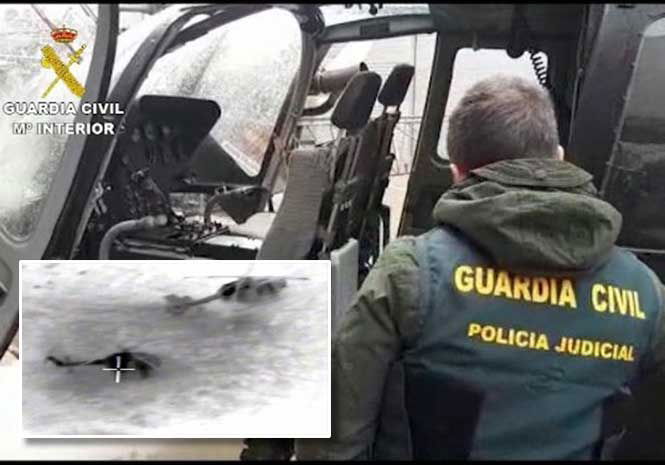 POLICE have made a total 18 arrests, including two Serbian ex-military helicopter pilots, after smashing an international drug trafficking ring importing hashish into Spain from Morocco.
The arrested pilots are experts in night flying at low altitude and without lights by air to avoid detection.
The Guardia Civil has intercepted two helicopters and made 18 arrests in Operation Andalusía-Serrania.
The operation began in 2017 following the discovery of a helicopter hidden on a finca in the mountains of the Serrania de Ronda in Andalucia.
A second helicopter was discovered on December 9 in Cabezas de San Juan, when it was carrying out an alleged "narco-flight" from Sevilla to Morocco.
Following the discovery of the second helicopter, four searches were made in the provinces of Malaga and Sevilla.
It is claimed the organisation had a logistics team charged with obtaining the helicopters and fuel, and mechanics who maintained them.
The powerful and light aircraft, manufactured in Germany, had a capacity for several passengers, but the drug traffickers adapted them to transport up to 900 kg of drugs.
Three vehicles have been seized, numerous mobile telephones, flight instruments, a coin counting machine, jewellery, high-value watches and €18,000 euros along with plentiful documentation.
All the detained are due to appear before the courts.
In 2015 a helicopter, painted black and flying without lights, crashed into an electricity pylon in darkness near Cortes de la Frontera in Malaga province, Andalucia while it was trying to avoid detection by a helicopter of the Spanish Guardia Civil.
The pilot and co-pilot of the crashed helicopter both died.
According to sources around 30 packages of hashish  – weighing almost 1,000 kilos – were found scattered around the wreckage.
The Albanian ministry of defence confirmed that the pilot was an officer in their armed forces who had taken leave from 12-31 January but had not asked for a permit to travel abroad.