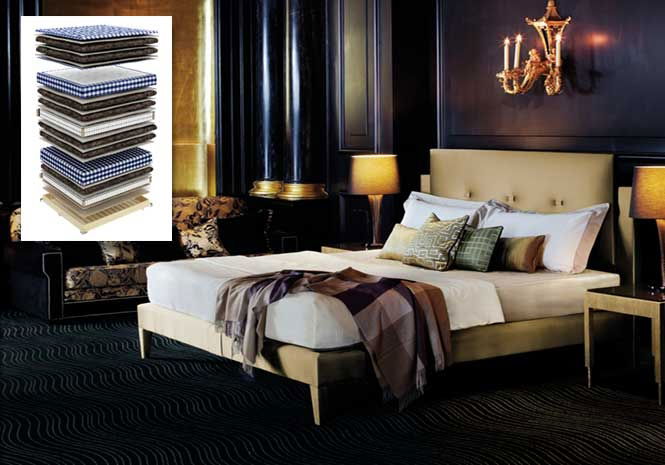 IN an average lifetime we spend upwards of 26 years sleeping, a third of our lives.
We are advised that we should replace our beds at least every eight years.
At John Lewis & Partners, my local department store, an unscientific survey online and in-store offered mattresses costing from €284 (£250) for a basic mattress and divan up to a heroic price of €20,500 (£18,000) at the top end for the mattress alone.
The most expensive mattress boasted fillings and ingredients of hemp, linen, horsehair, Egyptian cotton, British fleece wool, Yorkshire wool, goat angora, silk, cashmere, tree silk, Alpaca and Pashmina with 44,500 springs, while towards the budget end of the offer lay a bed whose list of ingredients were merely polyester, recycled cotton and wool, and a humble 288 springs.
Scientific research and surveys among them the National Sleep Survey showed that 50 percent of the UK's population have sleep issues. 80 percent confirm that their sleep is disturbed, regularly.
The negative impact of sleep deprivation extends into all aspects of our waking lives. You are more likely to be overweight if you sleep poorly. Science has even demonstrated that poor sleep patterns lead to a shorter lifespan than would otherwise be the case.
How much would you pay to live longer, healthier, slimmer and be even more productive?
Sir Richard D'Oyly Carte opened the Savoy Hotel, London in 1889 decided that no bed then on the market reached the standards of the world-famous hotel and commissioned James Edwards Ltd to create The Savoy Bed. To maintain its exclusivity the hotel subsequently bought the bed factory during the 1930s. The factory did not change hands again till 1997.
Savoir Beds of London still manufactures the original Savoy Bed, branded as the Savoir No2 with the trademark Trellis ticking designed by Lady D'Oyly Carte in 1905.
Frank Sinatra would only sleep on a Savoir Bed when he was in London and stipulated that condition in his contracts. Reputedly Liza Minelli actress and singer decided to purchase one convinced after just one night.
The Savoy Hotel was last totally refurbished in 2010, €234 million (£200m) was invested, and a Savoir Bed is found in all its best rooms, with the sumptuous No1 installed in the Royal Suite.
A family-owned manufacturer, Vastens Sangar has been making beds for more than a century. Its top of the line 'Vividus' bed costs more than €113,500 (£100,000).
Where is the quintessence of beds the 'Vividus' to be found? In the Swedish city of Koping, lying to the west of Stockholm is the factory.
Your investment buys the skill, experience and commitment of 140 craftsmen, each bed takes more than 320 man hours to make with 200 kilos of natural materials from slow-growing pine timbers to fabric.
At this level what is the difference between one bed factory and another?
History. Heritage. Materials. Design. The craftsmen.
Each bed is a work of art, built to specifications following personal consultations.
Probably a combination of factors will influence your ultimate choice.
Whatever your personal choice is, sleep tight!
• Nick Horne, Freelance correspondent, London, England