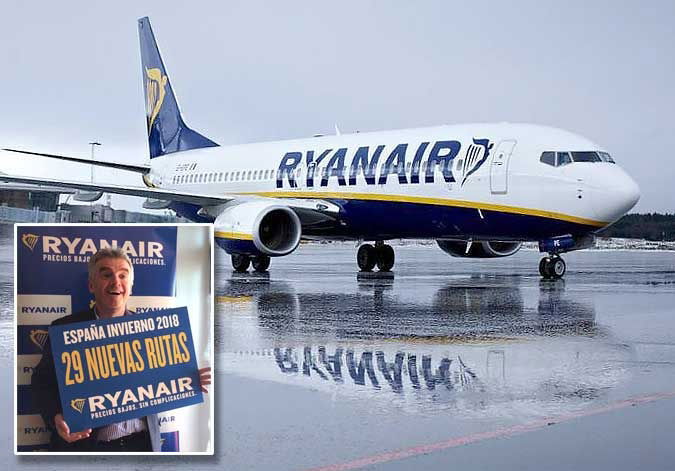 RYANAIR, the Irish budget airline, has announced expansion plans in Spain that would see it grow almost 10% and carry more than 41.5 million passengers a year.
Speaking at a press conference in Madrid, chief executive Michael O'Leary announced their new 2018 winter calendar for Spain, which includes more than 29 new routes, making 500 in total, and an increase in flight frequencies on 35 existing routes.
The company operates to 26 Spanish airports and expects to take on 500 new staff to meet their needs.
Alicante will now get new include routes to Newquay in Cornwall (UK), Bologna (Italy) and Gdansk (Poland).
Sevilla airport will be served by new, twice-weekly flight from Bristol and Edinburgh. There will also be a new route between Sevilla and Alicante.
Barcelona will get weekly flights to and from Bristol.
New routes will also be on offer from Mallorca to Milan, Bergamo and Rome Ciampino (Italy) and Dusseldorf Weeze (Germany).
And from Tenerife South there will be a new route to Milan Malpensa, while Gran Canaria gets a Venice Treviso flight.
O'Leary said, "To celebrate the announcement of our 2018 winter program for Spain, we have launched a range of seats from just € 19.99 to travel between March and May. These tickets are now available for your reservation until Friday, February 16, through our website."
At the press conference O'Leary said that Spain, which provides Ryanair with 27 percent of its traffic,"is very important for us, which is why we want to reach an agreement with Sepla (the pilots' union)."
"We wrote two letters offering them a recognition agreement and a 20 per cent salary raise."
"Sepla has not replied to those letters."
He added, ""We are serious about it and we want them to be equally serious with us."
He suggested that Ryanair would now write directly to pilots to propose the new condition while the airline tries to finalise the agreement with the union.
Sepla, meanwhile, has announced it plans to take legal action against Ryanair to force airline to give its pilots Spanish contracts.
Estamos encantados de anunciar nuestro calendario de invierno 2018 para ?? que incluye 29 rutas nuevas y un incremento de frecuencias en 35 rutas existentes. Para celebrarlo, hemos lanzado una oferta de ? desde 19.99€ para viajar entre marzo y mayo??https://t.co/BKmGojbxmm pic.twitter.com/zgtI2aTEDh

— Ryanair España (@Ryanair_ES) February 13, 2018