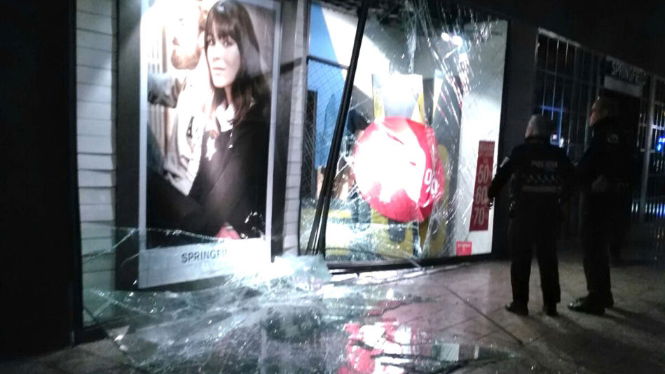 THIS is the shocking moment that brazen thieves raid a town centre shop in full view of witnesses.
Investigators have launched a manhunt in the wake of the bizarre heist in Valdepeñas, Castilla-La Mancha.
Astonished onlookers watched on as a car stolen hours earlier in Madrid reversed several times through the front window of a Springfield clothes store.
After the glass falls out, a man can be seen exiting the shop and jumping into the vehicle before it speeds off as alarms rings out.
An employee later confirmed that the suspect must have hidden in the changing rooms until the premises were closed before ransacking lockers and tills.
It is unclear precisely what was stolen as detectives continue to probe the incident, but the inside of the shop was "completely destroyed" according to one worker.
The peculiar method is apparently known to police as the 'moon landing technique.'
[iframe width="560″ height="315″ src="https://www.youtube.com/embed/DeB563Eq64M" frameborder="0″ allow="autoplay; encrypted-media" allowfullscreen ]