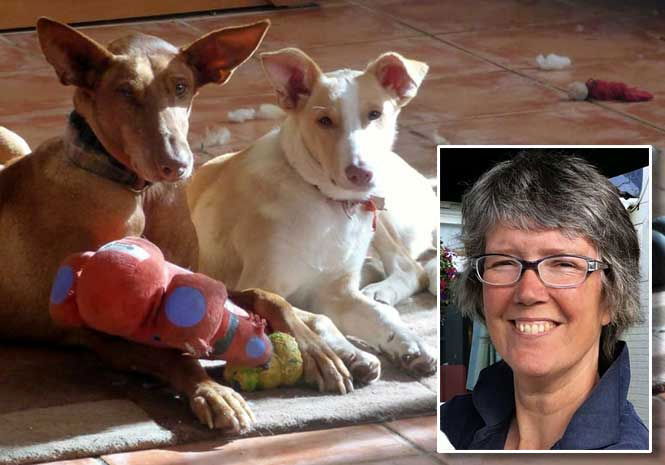 A DOG rescue centre in Spain is facing closure unless it can raise €120,000 in just three weeks.
The devastating and unexpected death of one of the Hope for Podencos centre's founders, Suzannah Stacey, in January 2018 left the charity without its benefactor and owner of the centre while all funds are tied up in probate.
And now the centre in Albacete, currently housing and caring for 40 dogs, is appealing for donations to secure the property and continue Suzannah's legacy.
If the money isn't raised in time the co-founders, Irene and Steve Allen, and all the Podencos will be out of a home.
Suzannah had committed years of her life to the plight of the abandoned Spanish hunting dogs.
She sold her house in the UK in 2017 but, sadly, during her move to help purchase the new centre in November had not been able to finalise all of the legal documents to secure the funds for the centre in case of her passing.
Suzannah died suddenly and unexpectedly from an aneurysm on January 23.
Co-founder Irene said, "We now need to raise the money from scratch to be able to secure the property again, even though we are living in it with the dogs already moved in and settled while waiting for their adoptions to their forever homes.
"If we can't secure this funding in the timeframe, we will lose the centre and be out of our home."
Irene explained, "Last December Suzannah decided that all the monies from her property sale in the UK would go into buying the rescue centre."
"Sadly, this didn't happen and has left us in a precarious position with the original owner, as they are now looking for the rest of the money.
"Her will hadn't been changed in the UK so no monies will be coming to Spain.
"Suzannah would have been devastated at this, so we have to fight to keep the centre and our dream and so Suzannah's name cannot be forgotten."
Irene said, "We hate to use the statistic, but if all of our 9,355 Facebook followers were to donate just €13 each we would reach our goal."
To help the rescue centre reach their target you can donate via these links;
Speaking to the Euro Weekly News Irene said, "I am overwhelmed at the support for the Podencos.
"Thank you from all my heart and the Podencos.
"Together we are stronger."