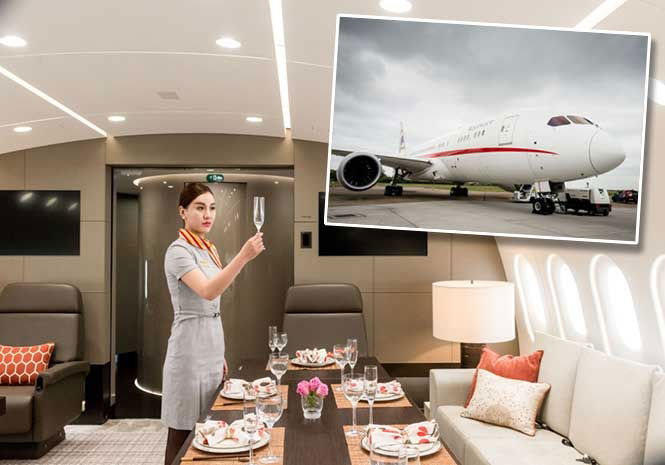 JET-SETTER, a tag that has been attached to the very rich in the popular imagination since the 1950's. There are however gradations or levels of a jet-setter.
There are those who turn left rather than right as they board an aircraft. Others who travel low cost and there is no option of right or left, we run for a spare seat.
Some pilot their own aircraft, several famous personalities have a pilot's licence, Tom Cruise, Carol Vorderman, Sir David Jason, Harrison Ford and Angelina Jolie among many others, including several Heads of State, will pilot themselves in their own aircraft.
While there some jet-setters whose choice is to charter a smaller jet with pilots included, perhaps one with eight passenger seats who can then kick back and enjoy a flight bypassing all of the trials and tribulations of the hub airports.
Instead of fighting your way through the traffic to get to the airport on time, allow two hours, then through check-in and security allow another two hours.
Shopping? Another hour or more if the check-in and security were not as bad as usual. Followed by a crazed and frantic sprint to the gate, then wait because the aircraft is late, lost or being cleaned. Finally, board and sit in a tight space next to a loved one or a vast and overweight fellow traveller who is intruding into your space, behind a person who on take-off promptly knocks your teeth out as they put their seat back.
Alternatively, with a private jet, you walk from the car park to the lobby of the General Aviation Terminal through security, immigration and 'check in' and so to the apron and onto your aircraft expending perhaps as much as five minutes of your very valuable time.
The ambience, tone, welcome and service on board is world's away from the typical hub airports or commercial jet.
Even if you own your own aircraft there are good reasons to charter one.
Perhaps your aircraft is not fit for the trip you anticipate? Range and or capacity. Perhaps you are travelling with family as you usually do though on this occasion friends and their close family are travelling with you too.
So, you need a bigger and more capable aircraft to carry those closest to you all at once.
Now your choices narrow.
At the very tip of the peak there is a very select group of wide-bodied aircraft and among them is an aircraft operated by Deer Jet.
Their VVIP Boeing 787 Dream Jet is capable of flying non-stop for more than 18 hours or 16,000 kilometres, that's equivalent to Madrid to Perth, Australia non-stop in the lap of luxury.
Even the cabin air pressure is better than commercial passenger jets, while the Dream Jet team of stewards and butlers provide 7-star service throughout the flight.
Even the Dream Jet's interiors, style and colour are frequently changed to reflect the different feelings of the variety of customers the Dream Jet serves.
And the cost of a Dream Jet bespoke flight? From just €63,000 per hour (US$78,000).
• Nick Horne, Freelance correspondent, London, England