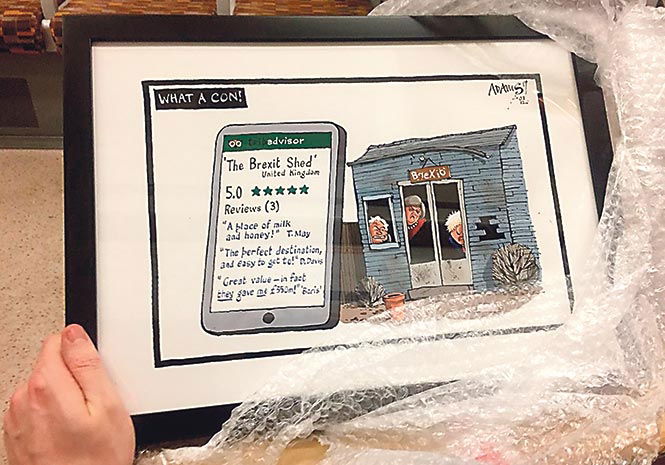 THERE are so many daft 'fake' stories doing the rounds now. But surely all are topped by the one about the man who created a fake restaurant in his garden, purely to hoax TripAdvisor.
'The Shed' in Dulwich, England, became an internet hit, ranked number one on TripAdvisor, even though nobody had ever eaten there!
Eventually it became so popular that Oobah Butler had to let people in, serving them ready meals from Iceland. Apparently he got the idea from a previous job of writing fake reviews on TripAdvisor at £10 a post, praising restaurants in which he had never eaten, to boost businesses up the rankings. 
Then he said he had a revelation: "Within the current climate of misinformation and society's willingness to believe absolute bullshit, maybe a fake restaurant is possible? It became my mission. With the help of fake reviews, mystique and nonsense, I was going to do it: turn my own shed into London's top-rated restaurant on TripAdvisor."
He produced a website, a concept to attract attention (dishes named after moods), got a photographer to 'immortalise' the 'food' (close-ups of shaving foam, bleach tablets and, at one point, his own foot) and friends to write reviews like: "The earthy taste and freshness of the food was something else."
Now, TripAdvisor's a useful tool but you have to read between the lines and use your own 'idiot filters.' 
If there are only five star reviews, be suspicious; similarly, if only bad ones. You come across silly comments as well as the 'Emperor's New Clothes' attitude to 'being there'. This was a harmless prank, but the guy was correct about our era of fake news. (Incidentally, any chance he could cook up a Brexit deal that'll stand scrutiny for more than a few minutes?)
PS, I'll certainly be recommending this unbiased article!  Five stars! Plus a warning: this column may not be written by a real person.
Finally, still need a bit of last-minute encouragement to embrace 'Dry January'? Well, there's always dry cider, dry white wine and dry martinis. Always glad to help! 
Nora Johnson's psychological crime thrillers – The Girl in the Red Dress, No Way Back, Landscape of Lies, Retribution, Soul Stealer, The De Clerambault Code(www.nora-johnson. net) available from Amazon in paperback/eBook (€0.99; £0.99) and iBookstore.  All profits to Costa del Sol Cudeca cancer charity.