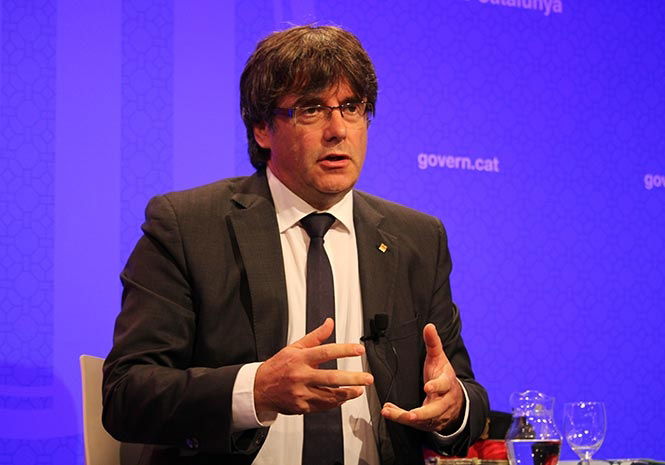 THE Spanish government has asked the country's constitutional court to block Carles Puigdemont's efforts to rule Cataluña from abroad.
Puigdemont is trying to return as regional president after being sacked by the Spanish government. 
The president – whoever it ends up being – is due to be sworn in next Tuesday.
"The government must use every tool made available by the laws and the constitution to make sure that a fugitive cannot be sworn in and become the head of the regional government," deputy prime minister Soraya Saenz de Santamaria said today.
Puigdemont's party has made a deal to lead a separatist coalition following elections last month.
He is currently living in Belgium, after fleeing from Spain following the fall out from the illegal independence referendum. 
He is intending to be sworn in via video link or through a colleague reading out a speech in his absence.
In response to the deputy prime minister's comments, he tweeted: "They are panicking in the face of the will of the people."
The Catalan parliament's new speaker, Roger Torrent, nominated Puigdemont on Monday as the sole candidate for regional leader.
Earlier this week, the Spanish supreme court rejected a request to reactivate an international arrest warrant for Puigdemont, when he visited Denmark.
If he comes back to Spain, he risks arrest on charges of rebellion, sedition and misuse of public funds. 
He leads the largest party in the coalition deal, but legal experts in Spain have said it is unconstitutional for him to rule from abroad. 
Lawyers in the Catalan parliament have said he needs to be physically present to be sworn in as president and the Spanish government have said they will take legal actions if he attempts to rule from abroad. 
Like a number of other representatives, Puigdemont was not present when the regional parliament was sworn in two weeks ago.
He faced a number of awkward questions on Monday, when he attended a conference at the University of Copenhagen titled "Catalonia and Europe at a crossroads for democracy?"
A pro-unity party, Ciudadanos – led by Ines Arrimadas – won most seats in the regional elections.
Arrimadas has previously said she would "love" to become president and does not expect the pro-independence parties to come to a workable agreement.