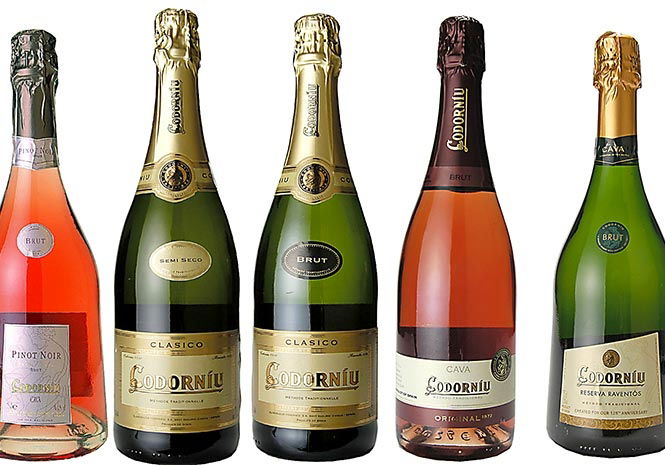 CODORNIU is the world's oldest and second-largest producer of bottle-fermented sparkling wine – cava – made by the méthode traditionelle (same as Champagne). 
Founded in Cataluña in 1551 by Jaume Codorniu,  just over 100 years later Codorniu heiress Anna married Miguel Raventós merging two families with a long wine tradition. 
Cava was first made in 1872 by José Raventós who established a new industry with Codorniu cellars established at Sant Sadurní d'Anoia between 1895 and 1915.
They were designed by renowned Catalán architect Josep Puig i Cadalfach.
Tragically in 1930 the Phylloxera plague infested the vineyards, but the family fought back with innovative viticultural techniques and ensured survival, with Codorniu producing more than 100,000 bottles of cava annually by the end of the 20th century. 
Nowadays, Codorniu with modern installations and the latest equipment continues to control the production process of its cavas from vineyard planting to finished product.
Wines produced with different blends of Chardonnay, Macabeo, Xarel.lo, Parellada, Pinot Noir and reserve wines are: Anna de Codorniu Brut, Codorniu 1551 Brut Natural, Codorniu Mediterranea Brut Natural, Cuvée Raventós Brut Natural, Codorniu Rosé Brut, Cuvée Reina Maria Cristina Brut, Delapierre 'D' Brut, Delapierre Glaçé Prestige Brut, Gran Codorniu Brut, Jaume de Codorniu Brut and Non Plus Ultra Reserva Vintage Brut. 
Codorniu has been one of the innovators of Wine Tourism in Spain, providing the infrastructure necessary for an interesting visit to their cellars at Sant Sadurní d'Anoia which in 1976 were declared a National Monument of Historical and Artistic Interest by King Juan Carlos. 
Happy tasting.