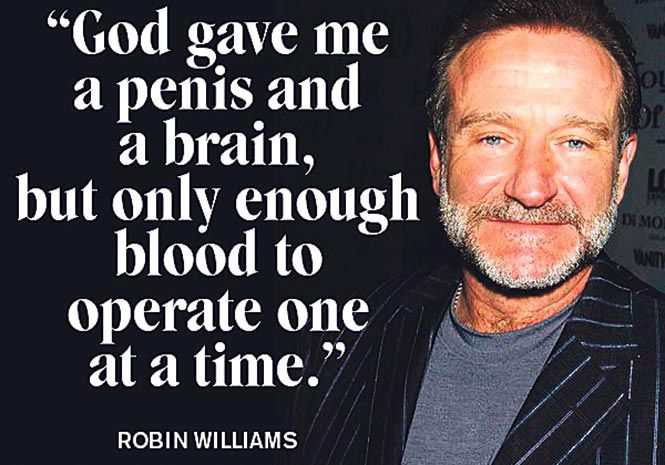 ROBIN WILLIAMS (RIP) was quoted as saying that men have enough blood in their bodies to work their brain and their penis, but not simultaneously.  I think it could be that simple.
A couple of years back I received a phone call on a Saturday morning from Mr X, the legal representative to a company we worked with. "Can you meet me at two? I have something to discuss; but not on the phone." 
As he insisted it was important and explained he was going to be away the following week I agreed.  Finding this strange to be called in on Saturday and paying heed to my instincts I decided not to go alone and asked my friend to wait in the car; "if I'm not out in 10 minutes come and get me" I laughed jokingly. 
The sun was shining, it was a glorious day but once inside the office apartment it was very dark. We walked through to his office along corridor after dark corridor. I noticed that we were completely alone.
Feeling more than a little uneasy I turned my phone onto record. However with the meeting over I felt silly to have done this but didn't dare turn it off for fear of it peeping.
I got up to go when Mr X suddenly pulled me back and asked me not to leave. He launched into an explanation about one of his friends' wives who had a mastectomy and somehow this led to him needing to see my nipples for reference! I stood there stupefied. 
Robin's right; this man was no longer using his brain. Mine however was working overtime, my instincts had been right, this was very wrong. Should I run? Laugh it off? Blatantly show my offence? I chose however to make my way to the exit whilst saying polite nothings, trying not to escalate the situation.   
Nothing really happened but I was shaken.  I thought it through, starting with how I was dressed. An ankle length skirt, elegant top, even a hat – I was literally covered from head to toe so not guilty there! Not guilty? I'm thinking the word guilty, but of what? 
Even if I had been stark naked there would have been no justification whatsoever for this audacious breach of boundaries. I could imagine this man seeing a woman in a burka and interpreting the 'look' to be giving him 'the come on'! Clothes obviously aren't the problem!
I never reported this man to anyone, but I often worry about this. I didn't want to make a fuss but I can't help but wonder if some other woman will have suffered because of my silence? 
It's not OK that I didn't do something about it nor that women obviously of any age, are subjected to unwanted sexual advances and innuendos, placed in apprehensive situations by lascivious men. I got off lightly; far too many women do not.  So, it's time to talk.
@marbellanow