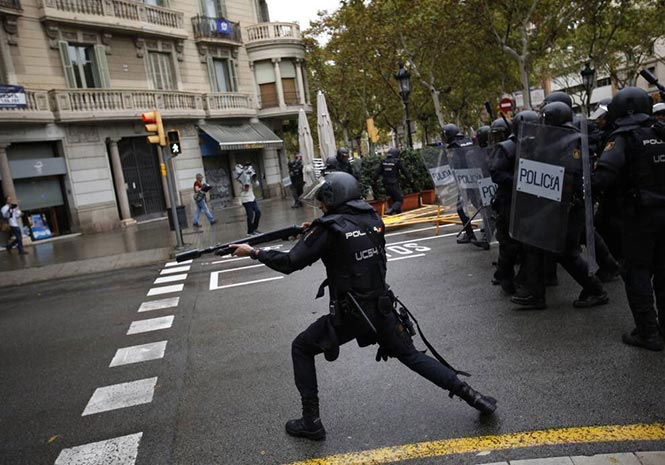 THE Spanish government has defended spending €87 million on extra police, whose operations left nearly 1,000 people injured during the Catalan independence crisis.
Additional Guardia Civil agents were drafted into the region in an attempt to stop the illegal independence referendum on October 1.
However, their operations were widely condemned worldwide, for what was seen as an excessive use of force.
Footage quickly emerged of armed police beating elderly people, women and peaceful protesters. Most of the violence centred around polling stations, after the Spanish government deemed the regional administration's referendum on independence illegal.
Police attempted to stop people voting at polling stations.
Turnout was relatively low, but 90% of those who did vote opted for independence.
Speaking yesterday, the Spanish Interior Minister, Juan Ignacio Zoido, strongly defended police actions during the vote.
"They used the least force possible," he reportedly told a parliamentary committee.
Expressing regret about the injuries – which numbered somewhere between 750 and nearly 900 – he claimed "radicals (had organized) to stop the security forces from getting inside the polling stations."
Mr Zoido reportedly admitted that "not all" those voting were "radicals" but blamed the regional government for the cost of policing, saying: "It's a high price that all Spanish people have to pay thanks to the pro-independence government that was running Catalonia."
He also criticised local Catalan police for "inaction" and failing to implement policing plans, according to reports.
His comments were met with heavy criticism from other political parties in Spain.
Various organisations, including the United Nations and Human Rights Watch have condemned the police action during the referendum.
Extra police remained in Cataluña for three months after the vote – withdrawing on December 30 – which increased the cost of the operation.
The Spanish government revealed that up to 6,000 state police and Guardia Civil agents were sent to Cataluña, with an average of 4,500 being on duty each day during their period in the region.
Following the referendum, the regional government declared independence.
That prompted the Spanish government to dissolve the regional parliament and call snap elections.
Various pro-independence politicians were subsequently arrested, and some – including ousted president Carles Puidgemont – had warrants issued for their arrest. Puigdemont has since fled to Belgium.
Last month's snap election failed to provide a decisive result, with separatists retaining a slim majority in parliament, but not taking over 50% of the result.
A pro-unity party, Ciudadanos – led by Ines Arrimadas – won most seats.
Parliament was sworn in on Wednesday but there is still confusion about who will become president.
Puigdemont's party has come to a coalition agreement with his former vice-president Oriol Junqueras' party, but the men are either in exile or prison. There would be significant legal issues with either becoming president.