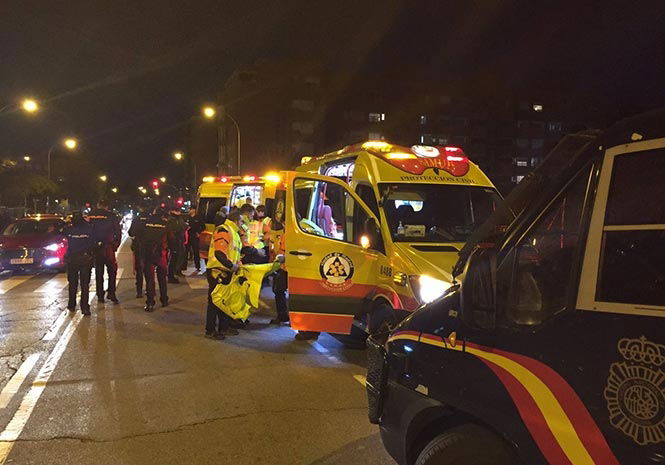 A 22-year-old man was stabbed three times in the Spanish capital ahead of Atletico Madrid's game against Sevilla.
Ignacio Racionero – arrested over the death of Real Sociedad fan Aitor Zabaleta in 1998 – has been arrested this morning in connection with the stabbing.
Emergency services say the victim, named as Fernando, was rushed to La Paz Hospital after the incident, near Atletico's Wanda Metropolitano stadium.
They add that he sustained leg, arm and back injuries during the altercation near the Las Musas metro station. Further reports suggest he has had an operation but his condition is not life-threatening.
.@SAMUR_PC estabiliza y traslada grave a La Paz a varón de 22 años con tres heridas de arma blanca en muslo, brazo y espalda. Ha ocurrido en Avda de Niza. Ha sido atendido de inmediato por efectivos de @SAMUR_PC presentes en el preventivo del Wanda Metropolitano. pic.twitter.com/3KDAETZoPE

— Emergencias Madrid (@EmergenciasMad) January 17, 2018
According to reports Fernando was wearing a shirt with 'Frente Atletico' written on it, suggesting he was part of the club's notorious 'ultra' fans. But reports today suggest that his alleged attacker was also an ultra, and was arrested at 3.10am this morning (Thursday).
Witnesses of the attack reportedly told Spanish media that two Atletico fans were talking about football near a bar when another man, without saying a word, came from behind and stabbed Fernando three times.
It is being widely suggested that the attacker acted alone.
Racionero has reportedly spent time in jail for robberies and was among 20 accused of the stabbing of Aitor Zabaleta.
Ultras are a hardcore group of supporters who have been known to turn to violence.
Madrid's Emergency Services said on social media: "Civil Protection has stabilised and taken a 22-year-old male in a serious condition to the La Paz hospital after he sustained three stabbed wounds, in the thigh, arm and back."
Sevilla won the Spanish Cup match 2-1, courtesy of a Joaquin Correa strike and an own goal from Miguel Moya. Former Chelsea striker Diego Costa scored for the hosts.
The second leg of their quarter-final tie takes place on Tuesday January 23.
Elsewhere in the Copa Del Rey, Espanyol shocked city rivals Barcelona 1-0, with Lionel Messi missing a penalty.
Meanwhile, Valencia came from behind to beat 10-man visitors Alaves 2-1.
Out of form Real Madrid travel to Leganes tonight.