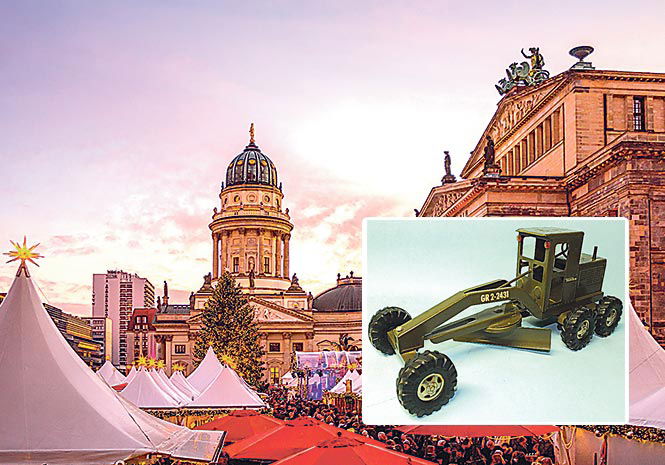 I COULD hardly wait. Just five days more until Christmas and I had the most spectacular gift under the tree.
Such luck. In our family lottery for gift exchange my oldest brother, an airman living in Berlin, Germany got my name. 
Nothing could be more exciting. A most certain unique gift from a spectacular place just for my 15th Christmas. 
The tree was in the corner as usual but you could barely be seen  as the gifts were piled so high. Truly a Christmas beyond imagination. 
But you didn't fool me much. Most of the gifts were dead easy to figure out. Packages from my parents were always clothes, jeans socks and underwear. Gifts amongst us were simple candies wrapped up or small things purchased at the five and dime with wrapping paper probably costing more than the parcel. 
Fooling anyone in our family about what present they would receive was nigh unto impossible. Everyone of us knew well ahead of time what we were gifted. Almost no need to unwrap it. Well, all except mine. A box securely wrapped so I couldn't peek. About one metre long, six inches high and wide. 
Now, I kept asking myself 'think out of the box.' What could come from distant Germany for a cool guy like me that would fit into a box of those dimensions. I shook it, weighed it, threw it in the air and caught it – nothing gave it away. I asked others. Even went to the library to check out catalogues of gifts offered on airlines for returning passengers. Nothing fit the description or size.  
Naturally I phoned my best friends to come around and help me. The more flummoxed I was the more I desperately needed a solution before Christmas Eve.  
Our entire family got involved with suggestions and guesses to no avail. No greater mystery had presented itself on our good earth since three wise men unexpectedly showed up in a lonely manger in Bethlehem.  
The hours ticked by and at last arrived for opening the packages. By total and absolute consent the family voted that I should begin festivities by relieving everyone's troubled mind – and open my unresolved baffling parcel. 
I put it gently on my knee and opened it as reluctantly as possible thereby creating further discomfort to all. Slowly taking off the large red bow raising it to the air and then letting it float to the floor. Then I opened the small sides without looking inside. Then peeled back the top rolling over the box until it remained naked cardboard.
I held my breath as I nervously lifted the top to behold something long and green. Lifted it out. A large green road grader. Perfect for a five-year-old but not for me. I wish I could have cried. My benefactor shouted over the ahs and hushed silence, "you were five when I went overseas, so I guess I remembered you as that!"
   Bah humbug BERLIN.