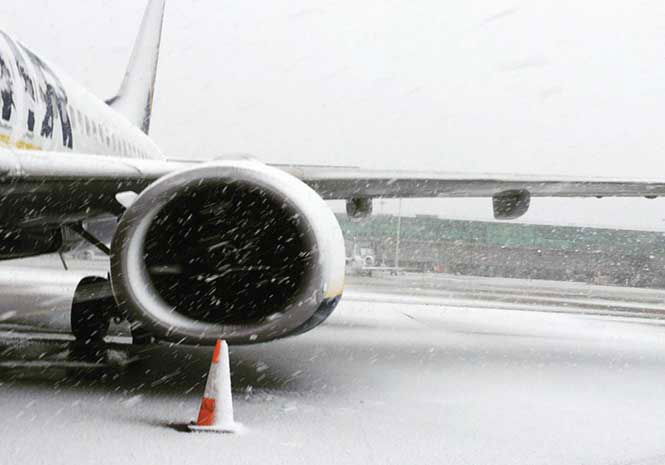 AROUND 300 passengers were stranded at London's Stansted airport last night after ice and snow delayed or forced the cancellation of Ryanair and easyJet flights.
Images posted on social media showed people trying to sleep on seats in the arrivals hall in the early hours on Thursday.
The chaos came after a snow and forced the airport to close its runway and suspend all flights.
A Stansted spokeswoman said, "Due to adverse weather conditions today Ryanair and easyJet cancelled a number of flights. There are up to 300 passengers in the terminal waiting to rebook flights.
"Passengers unable to return home are being looked after by Stansted Airport with beds and blankets, and additional help for elderly passengers or those with young children. Free food and drinks have been provided to delayed passengers throughout the day.
"All passengers due to travel are advised to check the status of their flights with their airline before travelling to the airport."
Stansted said all flights were anticipated to operate as scheduled today (Thursday), but passengers are recommended to check the latest status of their flight.
EasyJet tweeted this morning, "Due to continued poor weather conditions, some flights may be delayed or cancelled. Please check our Flight Tracker and allow plenty of time to get to the airport."
Sat on the runway, about to take off, when you hear the words 'Stansted airport is closed!' ?❄️? pic.twitter.com/3C6Y7k2umF




— NiomiCR ? (@RobertsNiomi) December 27, 2017
Due to continued poor weather conditions, some flights may be delayed or cancelled. Please check our Flight Tracker https://t.co/cu6iHfDzXX and allow plenty of time to get to the airport. pic.twitter.com/fxtYUm4mdJ

— easyJet (@easyJet) December 28, 2017
Good Morning and Welcome to London Stansted Airport! Please let us know if you require any assistance with your journey today – We're here to help. ✈ pic.twitter.com/auz569ymlb

— Stansted Airport (@STN_Airport) December 28, 2017