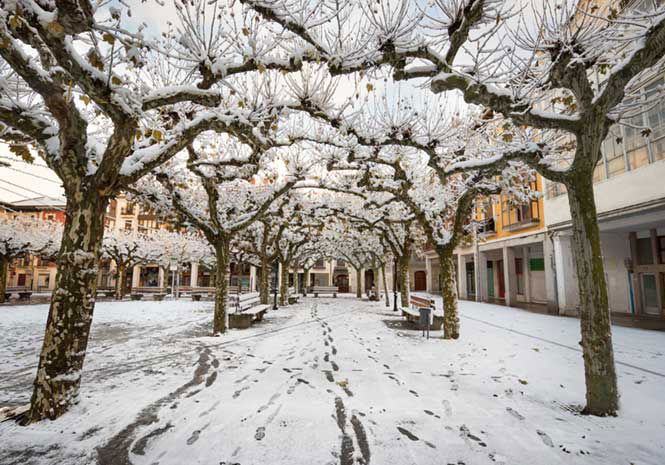 SPAIN is about to battered this week with the arrival of Storm Bruno from the Atlantic bringing rain, snow and strong winds with it.
Several active fronts will bring heavy rain to Galicia on Tuesday and across the north of the mainland peninsula and in mountain areas of the centre and south on Wednesday and Thursday.
The snowfall is expected to be significant, especially in the mountainous areas of the north and northwest as reported by AEMET, the state meteorological agency.
The snow could fall on Wednesday at heights of 700 -1,000 metres in the north, 1,000-1,200 metres in the central region and 1,200-1,500 metres in the mountains of the southeast.
Snow accumulations of 20-30 centimetres are likely in the Pyrenees and the Cantabrian mountains, and 5-10 centimetres in the central regions.
The winds will be widespread and begin to intensify on Tuesday afternoon, extending to a large part of the Peninsula and the Balearic Islands during the early hours of Wednesday.
Wind speeds could exceed 100-110 km/h in northwestern and northern peninsular areas, 70-80 km/h hour in the rest of areas and in the Balearics.
Stormy seas are also expected on the coasts of Galicia and Cantabrico, winds from the west and southwest are expected, force 7 to 8 and combined sea waves from 6 to 8 metres; on the coasts of the Mediterranean force 7 is expected and on the Balearic Islands, Catalonia and southeast Andalucia with waves of 3 to 4 metres.