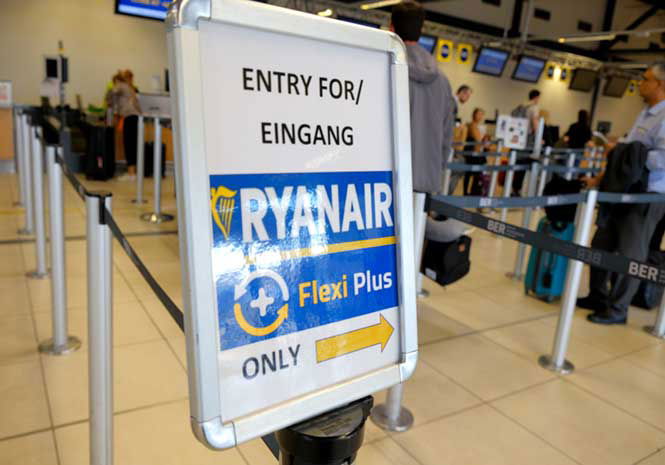 RYANAIR pilots in Germany staged a four-hour 'warning' strike this morning (Friday) after union talks with the Irish low-cost carrier stalled yesterday.
The VC Cockpit union said pilots stop work at German airports from 5-9 am affecting 16 flights.
"All pilots directly employed by Ryanair will be called to strike," VC Cockpit said in a statement.
However, Ryanair's  Robin Kiely said the airline planned to operate all flights.
"We advise all customers in Germany to turn up as normal, as we plan to operate all scheduled flights, and we will be doing our utmost to minimise any disruptions," 
Speaking to the Euro Weekly News this morning, Ryanair said, "Nine of our 36 first wave flights operating from Germany this morning were delayed, but there have been no cancellations, and Ryanair expects to operate all of our German scheduled flights today.
"We are grateful to all of our Ryanair pilots for putting our customers first and largely ignoring this VC strike.
"We apologise sincerely to our customers for any inconvenience suffered as a result of this unjustified and unnecessary strike by a small number of pilots organised by the Lufthansa (VC) pilots union."
The union claimed Ryanair broke off the first scheduled talks this week because it objected to two of the five union members at the table.
It accused Ryanair of playing for time to avoid upheaval over the hectic Christmas and New Year period.
"Ryanair's public offer to conduct negotiations with VC can only be classified as a further publicity stunt," said Ingolf Schumacher, of Cockpit. 
Last week Ryanair offered to finally recognise unions after crew in Germany, Ireland, Britain, Italy, Spain and Portugal threatened walkouts in long-running rows over pay and conditions.
The next round of talks is scheduled for January 3, 2018.