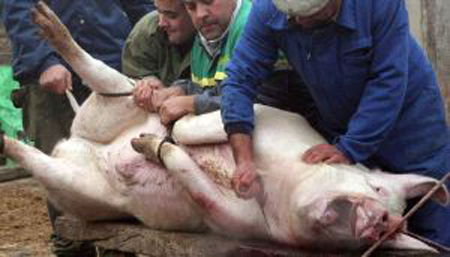 AN association in the Avila region in the north of Spain has been heavily fined for not-complying with a European directive prior to a matanza – a traditional slaughter of a pig.
A fine of €3,600 was imposed for not stunning the animal prior to the killing.
The complaint was presented by the Asociación Nacional para la Protección y el Bienestar de los Animales (Anpba) after a video of the killing on March 25 was uploaded to YouTube.
The sacrificial slaughter of pigs is a popular custom that still exists in several European countries.  It was an age-old way of surviving the winter and providing food for the year.
Matar means 'to kill' in Spanish — but the word 'matanza'actually refers to the whole process that takes two to three days.