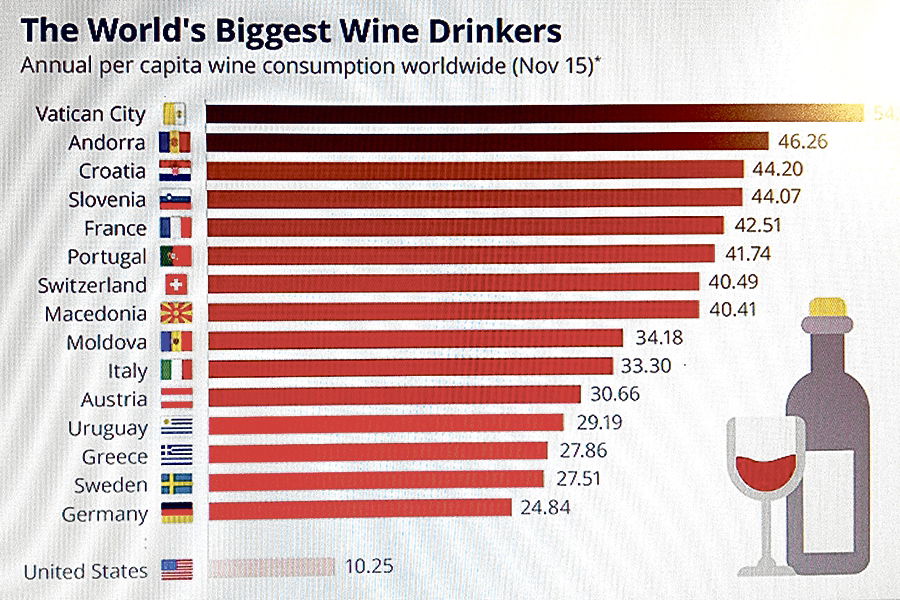 SPAIN leads the world as a wine exporting nation, which is worth an impressive €2.64 billion a year.
But when it comes to wine consumption per capita then Spain – perhaps surprisingly to many – lags behind 17 other nations in global rankings.
These sobering facts are spelled out in data from the California Wine Institute, whose most recently published findings put the Vatican at the head of world wine consumption with almost 55 litres per capita.
Spain with just 21 litres per capita trailed behind many fellow European countries including the UK with 22.1 litres  per capita.
For Bacchus readers who may want to contribute to a higher consumption in Spain, I can recommend a full-bodied Monastrell, 
The second most popular grape grown in Spain, Monastrell has deeper plum and liquorice notes than its French counterpart Mourvedre and is used primarily for blending although it can also stand alone as a delicious red. 
Full bodied and high in alcohol, Monastrell –  cultivated in Spain since 500BC – has a deep colour and is high in tannin with the scent of blackberries and fresh herbs. 
A perfect pairing for game and grilled meats, it should be avoided with dishes with too much spice. 
Interesting labels include Palomar Monastrell 2014 by Juan Gil; Monastrell Roble 2014 by Romeo and a young Peñarrubia Monastrell by Bodegas BSI.
Happy tasting.