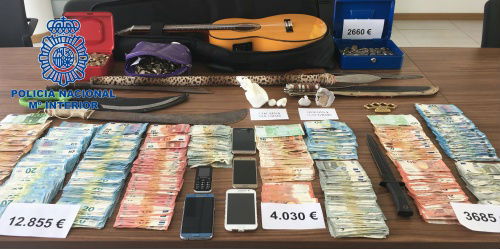 TWO men have been arrested on Ibiza accused of distributing fake €50 notes and selling drugs with more than €100,000 in fakes and €24,000 in genuine cash recovered.
Officers of the National Police across Spain were aware that a large number of fake €50 notes were being put into circulation especially in Barcelona and Madrid.
Eagle-eyed officers were intrigued when they saw two men, who they recognised as members of a local gang, hand a bundle of notes to a third man in Eivissa on Ibiza who then went into a guitar shop and purchased an expensive acoustic guitar.
After the man left with the guitar, officers entered the shop and checked the notes which they discovered were counterfeit.
The discovery of these notes tied in with a number of complaints being received locally from shop keepers and different branches of lottery charity ONCE, so the National Police visited three properties associated with the gang.
During these raids, they arrested two men and found 2,000 of the fake €50 notes, much of which was stashed in the recently purchased guitar, €24,000 in genuine currency, cocaine and heroin.