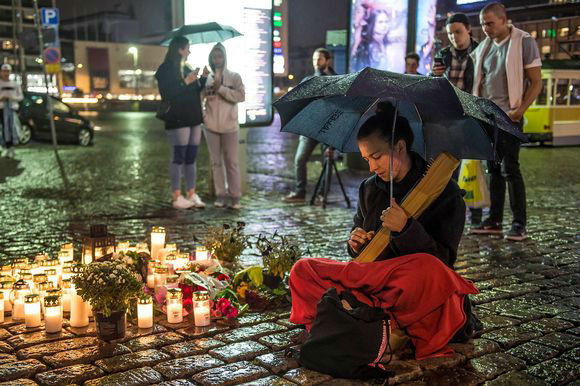 WHILST world media has understandably been covering the terrorist attacks in Catalonia, not quite so much prominence has given to stabbings in Finland yesterday which are said to be terrorist related.
Finnish police have indicated that the men who killed two people and wounded eight more in the city of Turku appeared to be targeting women with only two men attacked.
Both of those who were knifed to death were Finnish females and the only men who were injured were wounded when trying to assist those being attacked.
Initially, it was thought that the 18-year-old Moroccan attacker – who was shot in the leg – was a deranged criminal, but the Finnish authorities have now declared this to be the first act of terrorism to have been encountered in the country.
Four other individuals, also of Moroccan heritage have been arrested, suspected of being involved with terrorist activities and a fifth suspect is being sought but is believed to have left the country.
Amongst those attacked and taken to hospital were a Briton, an Italian and a Swedish national all of whom are reportedly no longer in danger.
Police have not released the name of the teenager responsible for the attacks but have confirmed that he arrived in Finland in 2016 and was in the process of being considered for asylum status.