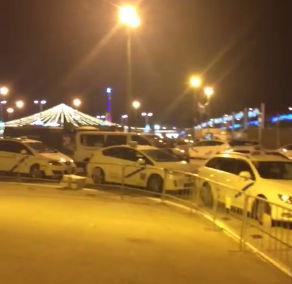 TAXI drivers called a snap strike after a high number of Cabify vehicles were seen operating during the Feria de Malaga.
Conflict arose when police were seen letting a large number of vehicles through a road in the Cortijo de Torres area reserved for transport services.
Taxi drivers demanded answers from the mayor, as it was estimated that around 80 Cabify drivers had been sourced in from other regions when only 20 percent of VTC vehicles are allowed to operate outside of their areas.
When talks broke down, they called a snap strike for Malaga City.
Only 290 of the 1,432 taxis are operating, leaving revellers unable to get back from the fair
Malaga Airport is running as normal.