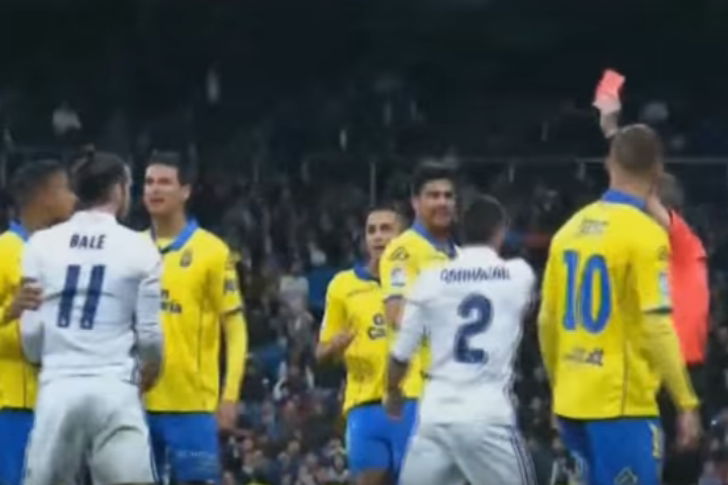 REAL MADRID dropped off top spot in La Liga after clawing back two goals to draw against Las Palmas, on the same night Luis Enrique announced his plans to leave despite a 6-1 victory.
Zidane's side started strongly, scoring in the opening 40 seconds of the game, although the goal was ruled offside.
Isco found the net minutes later but celebrations were short lived as a brilliant turn from the Canaries' Tana resulted in a ninth minute equaliser.
For the second time in the game, Morata had a goal disallowed for offside, although this time the margin was much closer.
By the end of the first half both teams had ample chances to score but no one was quite ready for what would happen in the next 45 minutes.
Bale saw red after an uncharacteristic flash of temper and was sent off for the first time since joining Real Madrid just before the 47th minute, and Las Palmas quickly took advantage.
Ramos then handled the ball in the area giving the Canaries a penalty, which they scored.
Minutes later Boateng took the ball around Keylor Navas making it 3-1 to Las Palmas, the game seemingly over as Madrid were overwhelmed by a confident away side.
Third time was not lucky for Morata as he saw yet another goal disallowed for offside, his frustration clearly visible.
It all seemed over for Madrid until a previously quiet Ronaldo scored two in as many minutes, one penalty and a header in the final moments of the game.
Elsewhere in La Liga Barcelona went top of the league with their emphatic 6-1 victory, but the mood was dampened by their manager Luis Enrique announcing he will not renew his contract at the end of the season.
The former Barcelona player has struggled to win the adoration of the fans despite winning five trophies in his first two seasons as manager.
Enrique told media outlets he is exhausted from the pressure of being the figurehead of such an important club.