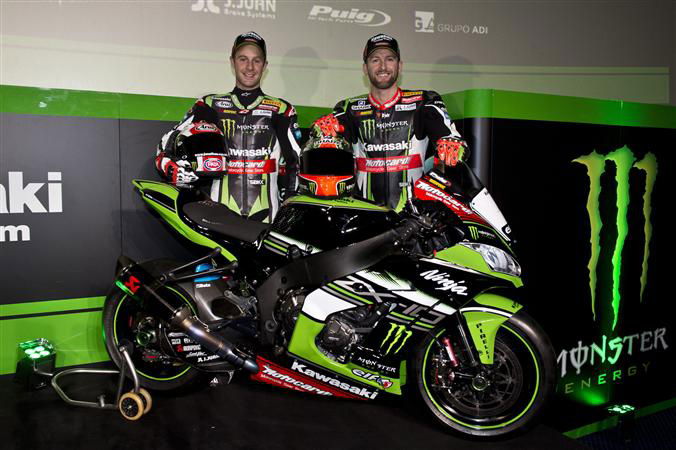 THE official 2017 FIM Superbike World Championship entry from KHI, the Kawasaki Racing Team, was unveiled in central Barcelona with a full spectrum of sponsors, partners and media in attendance.
As well as the first showing of the new model Ninja ZX-10RR in its official 2017 livery returning KRT riders Jonathan Rea and Tom Sykes were sporting the colours of team partners Motocard, Elf Total and Monster Energy.
 
A behind-the-scenes video featured 2013 champion Sykes and 2015/2016 champion Rea during winter testing, as well as pointing the way forward to 2017 and beyond.
 
The theme of the 2017 KRT campaign is of a reboot – of drawing a line on the considerable recent success to refocus on the new challenges and possibilities that any new season presents.
 
Rea and Sykes were joined on stage at the Cine Comedia in Barcelona by other team members and Kawasaki staff, plus local dignitaries and sponsors. A high level of interest was evident at the team launch, from both local and international media outlets.
 
With the European winter testing season now complete the final pre-season tests will be the official organisers' two day event, on 20 and 21 February at Phillip Island in Australia.
Only a few days later the new season will begin, with the first two racedays unfolding on Saturday 25 February and Sunday 26 February.
 
Jonathan Rea, the 2015 and 2016 world champion, said: "It is really nice that every year KRT really pull out all the stops for our team launch. The last few years it has been in beautiful iconic spots in Barcelona and again this year we are in this really cool cinema, pretty much in the heart of the city. It is nice to jump into my new leathers, see the finished bike and have so many other people around to share in the excitement of a new season. After celebrating the championship I have just refocused on testing since then. We have had such a productive off-season and now I am excited for the year to start."
 
Tom Sykes, the 2013 world champion, added: "There has been a lot of work and preparation put in during the off season from everybody and now we are announcing the team officially. It is getting to that time where we will be flying to Australia soon. It is all going to start happening very fast and tonight is the beginning of that. I am hoping to go to Phillip Island and be very competitive in the opening round. I have been trying my hardest in the winter to adapt to the bike. I would like to arrive strongly in the first round in Australia."