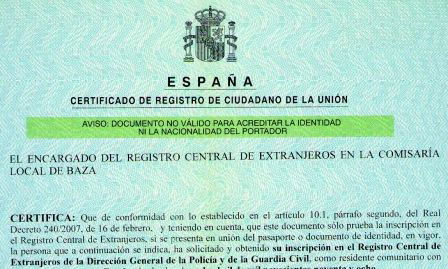 Q.
IN 2006 we went to Alicante and applied for the old style ID card 'residencia.' Of course they were only valid for five years and in 2011 we were unsure about staying in Spain so we let it lapse. Now we have decided to stay so we need to renew. Can we just exchange the old card for the new paper type or do we need to go through the whole process again? If so, what documents do we need?
C A (Costa Blanca)
---
A.
NO, you cannot exchange your expired permit for a new residence document. You must make a new application. As EU citizens, you will get the paper document of Certificate of Residence of EU Citizen in Spain. As of 2012, the requirements have been stiffened. You will need to show proof of income, either by having a job or being self-employed, and show that you are registered for Social Security payments. You will need proof of medical insurance as well. If you are a pensioner with the right to transfer your medical care to Spain, this should be sufficient.
---
Send your questions for David Searl through lawyers Ubeda-Retana and Associates in Fuengirola at [email protected], or call 952 667 090.