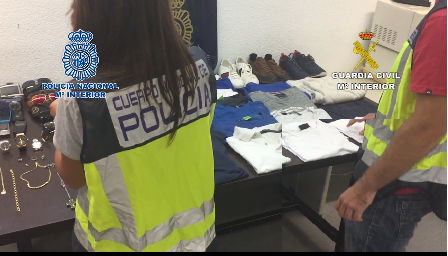 IN A co-operative venture between the Guardia Civil and the National Police in Costa del Sol, five people who are believed to have committed 73 burglaries have been arrested.
The gang which consisted of three men and two women was organised on military lines and targeted wealthy properties in a number of towns including Estepona, Marbella, Mijas and Torremolinos and using specially created tools entered properties noiselessly at night removing property whilst householders were asleep.
The cheeky crooks stole small items of value including jewellery, computers and cash and invariably found keys to cars parked outside of the property and made their getaway in those.
Officers first became aware of the fact that a criminal gang was targeting properties in Elviria and Nueva Andalucia and members were surprised and fled from one burglary when officers came across them.
After considerable investigation, the members of the gang were arrested during raids on properties in Granada and Torremolinos and three homes in Benalmadena and Torremolinos were also searched with a number of stolen items and property recovered together with 19 stolen vehicles.