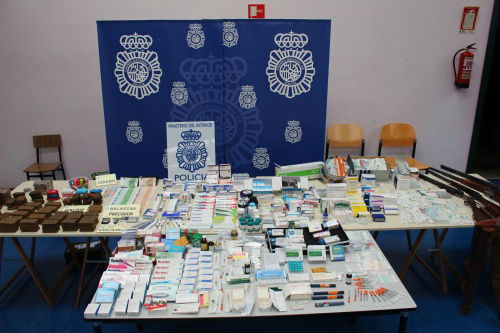 AGENTS of the National Police have dismantled a group dedicated to the illegal supply of banned substances to people involved in a variety of sports. The organization had a distribution network through the owner of a nutrition store and several gyms in the Asturias region.
In addition to providing anabolic steroids and performance-enhancing drugs they also offered growth enhancement treatments extracted from healthy athletes which were then injected into the joints and tendons of others.
The investigation was an extension of an earlier enquiry into a number of Olympians who were suspected of using illegal drugs to enhance performance and led to a dentist who it appeared was offering to repair injuries by a process that he referred to as "autologous transfusion" but which was illegal, especially as he was a dentist not a doctor.
Further investigation led the officers to another person who served in the Guardia Civil who was acting with users in gyms around Asturias with drugs either being imported from the UK or obtained from pharmacies using prescriptions supplied by the dentist.
In addition to these sports enhancing drugs, it transpired that those involved were also selling hard drugs such as cocaine and once all members of the gang operating this scheme had been identified, the National Police moved in and arrested 12 people.
In addition 110,000 doses of enhancement drugs of 85 different types as well as four guns, €5,000 in cash, 12 kilos of hashish and 30 grams of cocaine were seized.