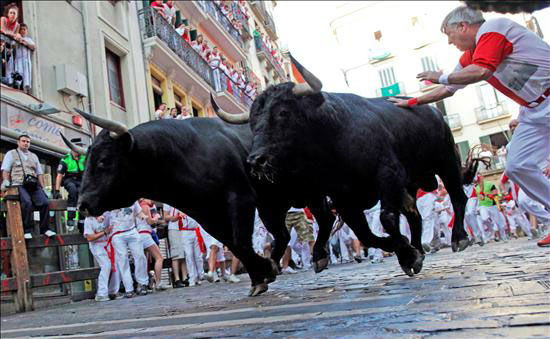 THE annual bull running festivities in Pamplona have only just kicked off, and already allegations of sexual assault have cast a pall on the early days of the event, which runs until July 14.
The newspaper Diario de Navarra has reported that a woman was going into a building in the centre of the city in the early hours of Thursday morning (July 7) when she was attacked and sexually assaulted by a group of men.
She was taken to a hospital nearby while the police searched for the suspects, and five men are currently being held for their presumed connection with the incident.
Pamplona has had a particular emphasis this year on the prevention of sex-related crimes at the San Fermin bull-running celebrations. A campaign has been undertaken to raise awareness and let people know about the kinds of resources that they have available if they find themselves in dangerous or distressing situations.
Some have expressed concern over how the event is typically presented in the media, with images of women flashing their breasts, often while large groups of men paw away at them.
Meanwhile, the first bull run of the year was described as a "quick and clean" affair, with no major injuries, although shortly after the morning run it was reported that four people had been hospitalised for scrapes and bruises. Considering the potential for goring, it is likely the four of them felt that they had got off lucky.