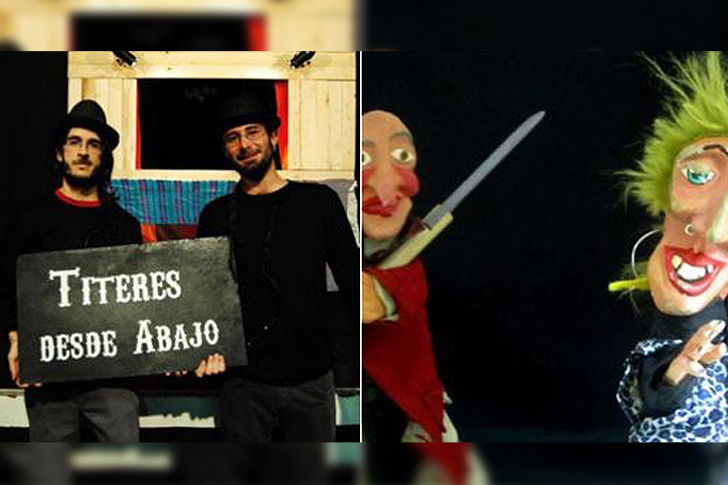 THE two puppeteers arrested last week for allegedly praising terrorism during one of their live shows have been released from custody, after their lawyers argued that the defendants would not repeat their actions and are not a flight risk.
Raul Garcia, 34 and Alfonso Lazaro, 29, were held in custody for five days at Madrid's Soto del Real prison before being released on February 10. 
Members of the theatre group Titeres desde Abajo (Puppeteers from Below), the two men had put on a controversial performance of 'The Witch and Don Cristobal' at the city-sponsored carnival, to an audience comprised of many children. 
Some onlookers alleged that the puppets acted out violent scenes, including murder and rape, upsetting quite a few spectators, especially those who had brought their kids along to watch a family-friendly show. 
Things became more serious for the performers, however, when one of their characters displayed a banner with the motto 'Gora-Alka-ETA' (translation 'Long live Al Qaeda-ETA'). A number of concerned parents reported the incident to the Madrid Municipal Police, and Garcia and Lopez were detained soon afterwards.
Because the event was sponsored by the city, some politicians have taken advantage of the situation to target Madrid's Mayor Manuela Carmena, with many parties calling directly for the resignation of her cultural commissioner Celia Mayer. 
At a press conference on Monday, Mayor Carmena apologised to the public for the "incredibly deplorable puppet show," and promised a thorough investigation into the incident, but did not say whether she intends to replace Mayer.
Meanwhile, others have been quick to defend the puppeteers. According to a statement by the International Workers Association (AIT), the show was never intended for children, and the offending banner was merely a prop in a scene satirising the abuse of power by state officials. 
In a paradoxical twist, it seems this sending up of officialdom is what brought Garcia and Lopez to the attentions of the authorities in the first place. 
The two men face charges in connection with praising terrorism, something which has been outlawed in the country since 1995.