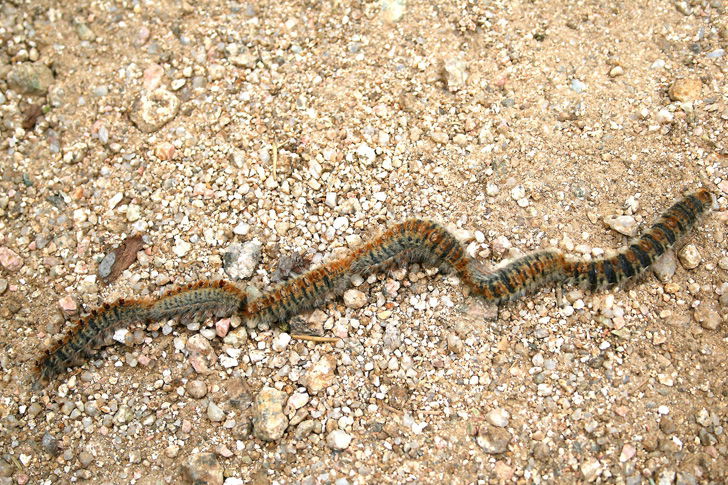 EXPERTS have warned that a plague of poisonous caterpillars will sweep Spain early this year, due to the country's unusually warm winter weather, reports from February 8 claim. 
Thought to be very harmful to small children and fatal for dogs, the Pine Processionary Caterpillar is normally seen at the start of spring but has already been spotted in parts of the country with an abundance of pine trees, the hairy caterpillar's habitat of choice. 
The director of the Spanish Pest Control Association (ANECPLA), Milagros Fernandez de Lezeta, confirmed the early sighting. 
"After a winter that has been much milder and drier than normal, the population of the processionary caterpillar has flourished and brought forward their arrival".
The scientist went on to describe the major risks posed by the caterpillars, which, Ms Fernandez de Lezeta claims can cause "dermatitis, eye damage and severe allergic reaction" in adults, children and pets. 
Each caterpillar measures 3 – 4 cm in length and is covered in tiny toxin-laden bristles, which contain a protein called thaumetopoein.  
Curious dogs that come into contact with the insect sometimes transfer the barbed hairs to their paws. When trying to lick those off, the animal can effectively poison itself and may suffer vomiting, breathing difficulties or foaming at the mouth. 
In this eventuality, the afflicted pet requires an urgent visit to a vet, to avoid further complications, which in the worst cases, can require the tongue or nose to be amputated or bring about the animal's death.
Known by experts as the Thaumetopoea Pityocampa, groups of caterpillars are often seen moving in one long snake-like line, hence their name. 
Users of city parks and private gardens should stay vigilant, as the insect can be found anywhere pine trees grow.