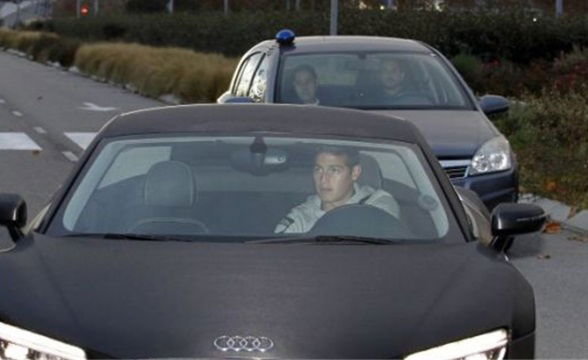 REAL MADRID'S young Columbian star James Rodriguez  is in trouble after undertaking a covert Police car on the M40 at high speed in his Audi A8 leading to a 200kmh car chase.
The incident occurred on Friday January 1, while James was traveling to a training session at Valdebebas in Madrid, where according to police reports James passed an unmarked Police car on the motorway – undertaking on their right hand side – at high speed. This prompted them to give chase with lights flashing and sirens wailing for some 15 minutes over a distance of six kilometres.
Having lost sight of their foe on one occasion because they couldn't keep up, the vehicle they initially thought might be a stolen car headed towards Real Madrid's training ground giving them the clue it was in fact a Players car.
Catching up with James as he entered the clubs facility, He apologised and explained that he didn't notice that they were police officers because the music from the radio was turned up loud, and that he thought he might be the victim of a kidnapping.
The Police then cautioned him but did not arrest him, as they accepted both his reasoning and his status as a public figure that is not deemed to be a flight risk. According to La Marca, Rodriguez has been reported to the courts and is likely to face prosecution for traffic offences in due course.