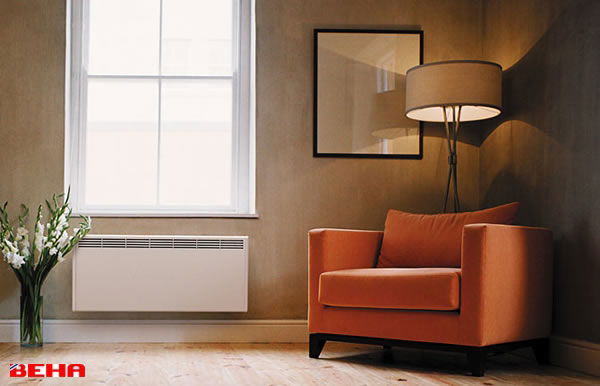 Now in their sixth year of trading, Neater Heater are still being asked the same questions: What makes Neater Heaters special? Why should you choose them over other electric heaters? The simple answer is: design and build quality. 
Many families throughout the Costa Blanca are already enjoying the soft warmth given off  by these cleverly designed and unobtrusive Norwegian heaters. A good discreet central heating system has never been so affordable. 
As Richard and Tony explain: "The basic choices for heating your home are either a full central heating system with water-filled radiators and pipes, or gas heaters, or electric. Or a combination. Obviously with central heating the main obstacle is the high installation cost. Also, there is quite a high ongoing maintenance cost. Gas estufas are effective, but quite unhealthy, and give off a huge amount of vapour which causes black mould. This brings us to electric. Until we started Neater Heater the options were awful. You either bought Jell-filled heaters that were as expensive as a central heating system to buy, or cheap – but mostly inefficient – heaters that would make your electric meter wheel spin like a helicopter. There was nothing affordable, economical, and effective available in Spain. We know, believe us, we looked." 
But sometimes in life luck plays a strange hand. It was while Tony was looking for a heater for his son's bedroom that, quite by chance, he saw a heater in a house he was doing some work in and it fit the bill perfectly.
It was a neat and efficient wall-mounted Norwegian convector heater. It could be used as an individual room heater, or as part of an integrated system. The rest, as they say, is history and six years down the road he, and Richard, are making Neater Heaters available to us all. They can be wall-mounted or if you are limited for wall space additional feet can be purchased to enable them to be freestanding. 
With our online shop, where you can view and purchase our heaters, and with phone facilities for credit card payment, bank transfer and PayPal, now purchasing these fantastic heaters couldn't be easier.
Neater Heater also has a network of agents offering local sales and support from Moraira in the North, down to Almeria/Costa del Sol in the south. 
NEATER HEATER DISTRIBUTORS:
COSTA BLANCA SOUTH BENIJOFAR: Vincent Real Estate.Tel. 966 712 440 QUESADA: The Electrical Shop (Euronics). Tel: 966 188 169
NORTH TORREVIEJA: For home inspections call Colin. Tel. 636 537 338
TORREVIEJA: S J & A. Digital. Tel. 966 319 253
BLUE LAGOON: The Electrical Shop (Euronics). Tel. 966 188 170
MURCIA PROVINCE: Nigel and Anne home inspections Tel. 660 893 861
SOUTH TORREVIEJA: For home inspections call Edmund. Tel. 966 765 552
Heaters also available for purchase at our online shop with free home delivery WWW.NEATERHEATER.ES or Tel. 634 312 171