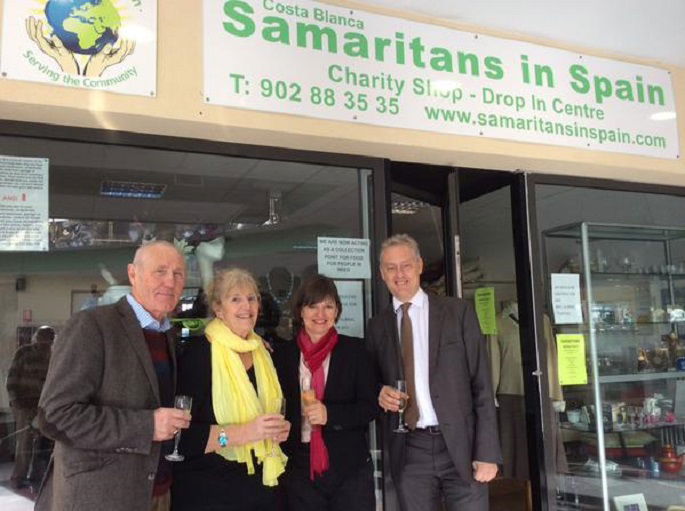 CHRIS SUMTER who helped turn Samaritans in Spain from a small four hours a day local charity into a national organisation offering a sympathetic – and often life saving – ear 24 hours a day has been honoured by the Queen.
Chris, who has just returned to Clevedon in the UK after retiring as President of Samaritans in Spain, was awarded a British Empire Medal (BEM) in the Queen's Birthday Honours List.
She was president of the Spanish based charity for four years and a trustee for seven years as part of her 20 years living abroad.
It came as a huge surprise to Chris to learn she had been nominated for the award. The citation is "For services to the British Community in Spain". This reflects Chris's ongoing help and support to people in need, not just her work with the Samaritans. For example she helped and supported survivors of the Boxing Day Tsunami in 2004 while living and working in Thailand.
Chris took over as president of Samaritans in Spain from Stephen Ashley four years ago. He had inaugurated what was then called Costa Blanca Samaritans and built a very strong foundation, including all the legal requirements for setting up the organisation. However, the service needed expanding.
When Chris took over from Stephen it was still only operating four hours a day, seven days a week, with just the call centre. One other major obstacle was that it was virtually unknown of outside the Costa Blanca Region. With the help of a dedicated group of volunteers Chris began the process of expanding the organisation, getting its name and service out to the whole of Spain and the Islands.
Together they introduced a 24 hour service and opened what is probably the only Samaritans combined call centre, drop-in centre and charity shop in the Punta Marina Commercial Centre in Torrevieja. More than 60 volunteers are involved in the charity.
With a massive campaign the Samaritans became a national, not just a local, service and a force to be reckoned with. Visiting English speaking prisoners in Spanish jails and supporting their families became a very important element of their work. Just before Chris retired and returned to the UK a second drop-in centre was established in Madrid.
Chris sees this award not just as recognition for all the work she has done over the years, but also a recognition of the hard work of all those involved in the Samaritans, both in Spain, the UK and around the world. She took the very sound foundations laid by Stephen and the original founders and built a solid framework upon that. Upon retiring she passed on this sound framework to the next generation who will complete the structure.
Chris finally retired when she moved to Clevedon, but as all those who know her will attest, we probably haven't seen the last of her helping others.
To contact Samaritans in Spain call (0034) 902 88 35 35
24 hours a day, 365 days of the year.
Para aquellos que sólo hablan español, Las Samaritanos Españapuede ser contactado en el 957 131 225