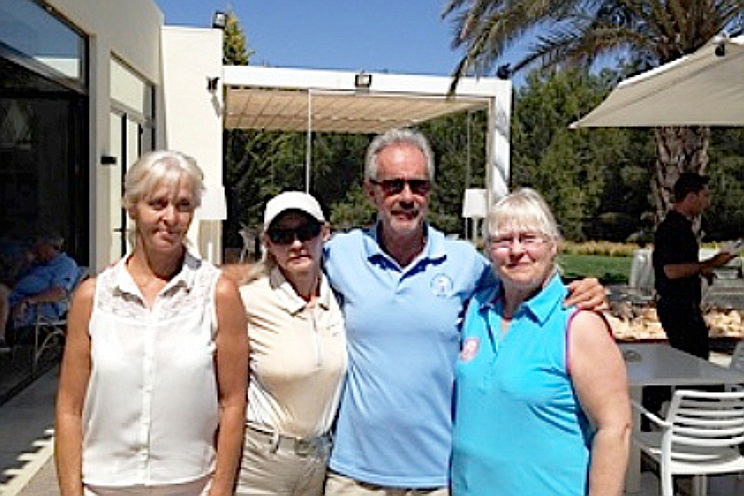 THIRTY-FIVE members and seven guests attended SMGS's visit to Las Colinas on June 10, to take part in a Stableford competition.
The course was in its usual excellent condition, and, as last week at Villamartin, a large number of members, 22 in all, scored 30 points or better.
A particularly good day for the lady members and visitors playing, taking first and fourth in the bronze category, and it was on hole 5 that a special event occurred for one of our visitor's, Mark Roscoe, brother of member Mick, making a hole in one.
One quarter final match was played in this year's singles match play competition, Norman Padmore beating Steve Davis in a tight game which went to the 19th before being decided. Norman will now face Mike Jordan in the top half of the draw semi-final.
Stableford results, by category, were:
In the Bronze Category, fourth place went to Marg Birtwistle with 33, and third was taken by Norman Padmore also on 33.
Second spot was Ray Ewins again on 33, while first place was Jacqui Rust with 37 points.
The Silver Category saw fourth place won by Laurence Cullen on 32, with Ken Flahery in third with 33. Second spot went to Keith Wraithmell on 35, as Alan Gilbert won with 35 points.
Gold Category fourth place went to Steve Davis on 33 behind John Aitchison in third also with 33 on CB. Second place with 34 points was Theo Boelhouwer, and first place was secured 37 points by Vice Captain Barry Roehrig.
Keep up to date with all SMGS matters by logging on to the website www.smgs.org.