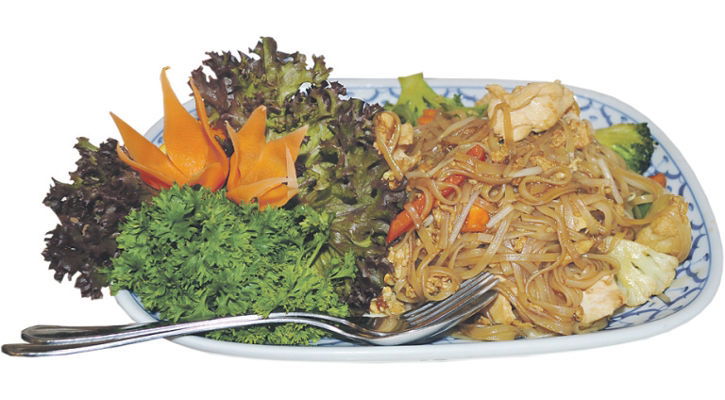 THE success of a restaurant is usually shown in popularity and expansion, and Top Thai has both of those things.
Ten years ago Mr Top, the owner of Top Thai began serving up sensational tastes of the East with a small kiosk on the other side of the Plaza with just 15 tables and only 25 items of Thai cuisine on the menu.
Like anything good and exciting, news spread fast, and very soon Mr Top had to relocate to larger premises to accommodate his following. Now Top Thai has over 100 dishes to offer which are cooked with the best Thai spices in the true traditional manner. Voted the Certificate of Excellence in 2014, Top Thai is serving up some deliciously authentic dishes that are also voted the most healthiest in the world.
Thai food is renowned for its balance of fundamental tastes and also for an emphasis on being lightly prepared to keep in the goodness and aromatic flavours. Using only the freshest ingredients this technique of cooking results in dishes that are rich in taste and health properties.
For starters you can choose from many variations of spring rolls, crispy duck, Thai salad, Thai canapés and more. There are many healthy salads incorporating seafood, meat, noodles or papaya.
The soups include some creative combinations such as spicy seafood with Thai herbs that give you a true taste of Thailand, and for main courses there are more feasts on offer.
The speciality menu includes steamed sea bass, Thai style grilled chicken, grilled lamb rack with Thai sauce and roasted prawns with noodle, ginger and coriander. The food at Top Thai is a must to experience if you want to sample Thailand at your fingertips.
Also enquire at Top Thai about the forthcoming Free Meditation classes that will commence on April 11.
You will find Top Thai at Centro Plaza 64, Av Manolete 1, Nueva Andalucia. Opening hours are Monday to Sunday from 12am to 12pm.
Tel: 951 319 778 or 672 028 210.