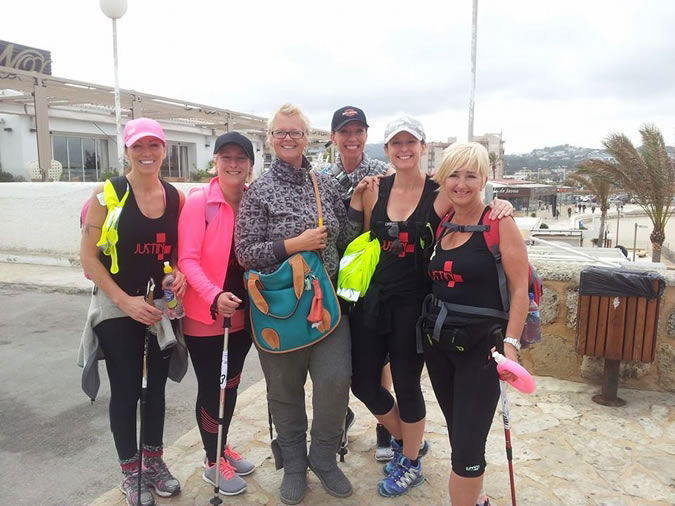 The 5th Annual Mirador Challenge, sponsored by Bar Quo Vardis and Villas-Plots.com, was a resounding success.   Mike and Fay Smith, who run javeamigos.com, started the challenge in 2011 and it has grown every year with 29 multi-national teams competing this year.  Light rain earlier in the day dispersed and there was a fresh wind to cool the teams in the two categories: Sports and Leisure. The weather was "ideal for walking" said one competitor.
The 15 Miradors – or viewpoints – stretch along the coast of Javea from the start point at Granadella in the south to the last viewpoint at Els Molis in the north. There were steep descents, stretches of flat coastal paths and rapid ascents to test even the most resolute teams over the 29.5km.
The teams had a staggered start, met at each checkpoint by marshals marking team cards with arrival and departure times.  As expected, the Sports teams tended not to stop and marched on. There was equal determination in the Leisure category although some did decide to rest, take water and soothe their aching feet.
The average completion time was 5hrs 33mins – and there was much relief at the finish line as Costa Blanca Reflexology Group provided competitors with free foot massages!
The awards presentation at Bar Quo Vadis was well attended.  In the Sports category the trophies sponsored by Villas-Plots, Clinica Dental El Puerto and AMJASA were won by Team Mamil who were 1st with 4hrs 24mins, The Nordic Warriors 2nd and The Originals 3rd.
In the Leisure category, trophies sponsored by Bar Quo Vadis, Moraira Hamiltons and Knight Construction went to Los Sherpas De Xabia 2 who were 1st with 4hrs 36mins, CBYA Machos 2nd and Xeremells Orientation 3rd.
Special awards, sponsored by gatesandgrills.com went to The Mirador Marauders: Veteran's Trophy, The Nordic Walkers: Special Stage Trophy. Kate and Scarlet O'Malley (Nordic Walkers), who flew from the UK to take part, received the javeamigos.com Special Award.
Mike Smith congratulated all the competitors, with special thanks for the many volunteers who helped along the course.
If you feel you would like to participate or volunteer then the Mirador Challenge 2016 is on 3rd April and the details are on the MC facebook page.