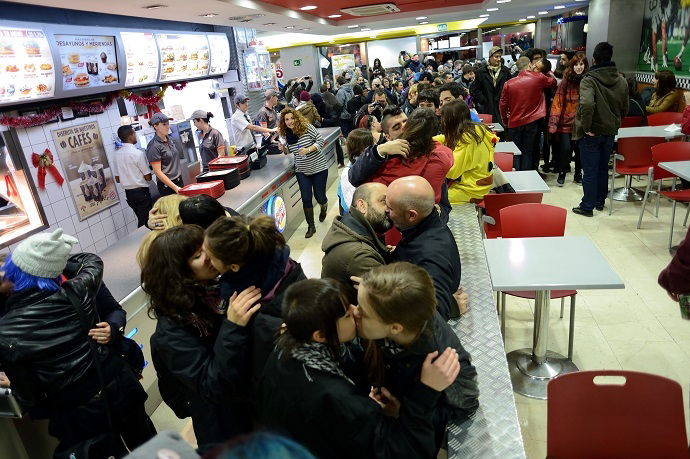 DOZENS of same-sex couples staged a protest against homophobia at a Burger King restaurant.
After a security guard at a Burger King in Madrid asked a gay couple to leave the premises because their public display of affection was allegedly setting a bad example for the children at the restaurant, a wave of public outrage rocked social media and prompted many to stage a protest to condemn what they saw as an act of discrimination.
It all started on November 29 at around 9.30 or 10pm at the Burger King restaurant in Plaza de Los Cubos in downtown Madrid. Jaime – a fictitious name – was having dinner with his boyfriend, when they were approached by a security guard who told them that 'they could not do things like that, because there were children around' and asked them to leave.
By 'things like that' the security guard was referring to the fact that the gay couple had been kissing, which had led two families to complain because they were setting 'a bad example' for their children.
"We just could not believe it," said Jaime, adding that they had never been discriminated against like that and did not know what to do.
A married couple at the restaurant tried to defend them telling them not to leave because they had every right to be there, to which the families replied saying their children should not have to see that. Then the young men, aged 18 and 19, decided to leave because they did not want to cause any problems.
However, it did not end there. Dozens of same-sex couples have now shown up at the restaurant to protest against homophobia doing the exact same thing the gay couple had done: kiss. The restaurant employees applauded the protest.
Burger King said on its Facebook wall that the security guard had acted on his own initiative and added that the company has a zero tolerance policy against any form of discrimination.
They added they knew what had happened and had taken measures. They did not say, however, what those measures were.