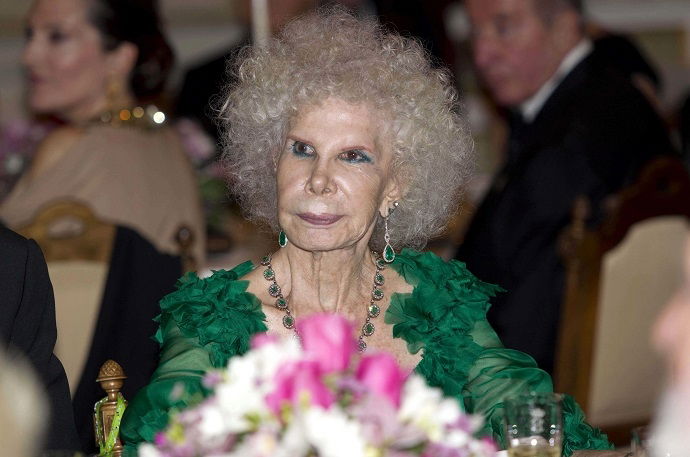 THE Duchess of Alba has died in Sevilla.
Known as Cayetana, 88 year-old Maria del Rosario Cayetana Alfonsa Victoria Eugenia Francisca Fitz-James Stuart y de Silva, 18th Duchess of Alba, 11th Duchess of Berwick and 14 times grandee of Spain, died at her Palacio de Dueñas palace in the early hours of this yesterday morning (Thursday, November 20). Her husband Alfonso Diez, her six children and other family members and close friends were present.
The Duchess's health had deteriorated considerably over the last few days and her family decided she should be taken home to spend her last hours accompanied by her loved ones.
The aristocrat was admitted to intensive care at the Quiron Sagrado Corazon hospital in Sevilla on Sunday with breathing problems caused by pneumonia.
After arriving at home, Cayetana was looked after by the same medical team who cared for her during her time in hospital.
Cayetana was born at Palacio de Liria in Madrid on March 28 1926 and was exiled to London with her family when the Spanish Civil War began.
After returning to Spain she married Pedro Luis Martinez de Irujo y Artacoz, son of the Dukes of Sotomayor in Sevilla on October 12 1947.
Following her father Jacobo Fitz-James's death in 1953, Cayetana inherited the duchy. Six children were born from her first marriage: Carlos, Duke of Huescar, Alfonso, Duke of Aliaga, Jacobo, Count of Siruela, Fernando, Marquis of San Vicente del Barco, Cayetano, Count of Salvatierra and Eugenia, Duchess of Montoro.
Sevilla City Hall will house the funeral chapel for the Duchess. Her mortal remains are expected to be taken to the City Hall today and after the wake she will be cremated and her ashes shared between the Valle church in Sevilla and the Duchy of Alba House's pantheon in Loeches, Madrid.