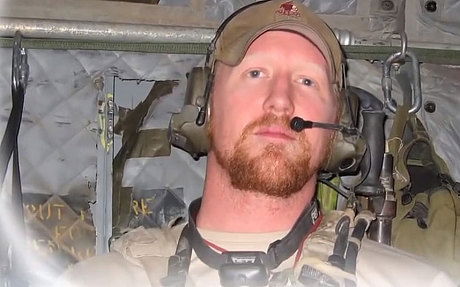 We saw it in the film and now we can reveal who the real Bin Laden killer is. The man so far known as 'The Shooter' who actually killed Osama Bin Laden is veteran navy SEAL Rob O' Neill.
The breaking news, which was revealed ahead of a Fox News interview due to be shown around the world, came from the veteran SEAL himself, who has lost some military benefits, after leaving the SEALS before his full 20 years of service.
O'Neill earned two Silver Stars and four Bronze Stars with combat 'V' among other decorations for his part in the raid in 2011, but it still didn't entitle him to his navy benefits.
The 38-year-old veteran had already spoken to Esquire magazine last year, but his identity had not been revealed and he had only been referred to as 'The Shooter.'
In that interview, he discussed his early enrolment into the US navy at the age of 19,  his training with the SEALS, the lead up to the top secret mission that lead to the killing of one of the world's most dangerous men and why he retired before his 20 years of service.
"I'm not religious, but I always felt I was put on the Earth to do something specific. After that mission, I knew what it was," he told the magazine.
It is unknown if there will be any recourse into the self-identification made by O'Neill, as veteran Navy SEALS are obliged to sign non-disclosure agreements when they enter service and when they leave, due to the highly sensitive information they possess about tactics and techniques on overseas missions.
Osama bin Laden was tracked down in Pakistan and killed on May 2, 2011.