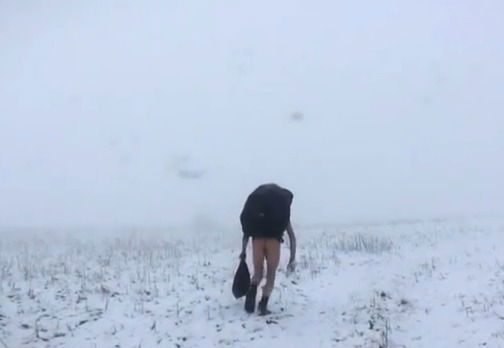 Next time you feel the urge to strip off on the beach and skip around in the buff, spare a thought for the former marine Stephen Gough, the infamous 'Naked Rambler'.
Mr Gough, 54, has lost his case at the European court of Human rights (ECHR) where he claimed he had a right to be naked in public. He alleged that his arrests, prosecutions, convictions and imprisonment for being nude in public and his treatment in detention had violated his human rights.
The ECHR, normally given to contentious decisions often seen as being designed to provoke the ire of the calmest among us, unanimously found that there had been no violation of articles 8 and 10 of the European convention on human rights and Mr Gough's rights had not been violated during his naked rambling.
Mr Gough has walked naked from John O'Groats to Land's End, and is best known for campaigning for his right to appear naked in public, even though his actions have regularly landed him in prison. He has spent a total of five years and three months in detention between May 2006 and July 2011.
The case at the ECHR stems from his arrest in July 2011, when moments after being released from HMP Perth he was asked by two policemen to cover up. Refusal led to a prompt return to Perth Sheriff court where the sheriff found that his conduct on was severe enough to cause alarm to ordinary people, threatened serious disturbance to the community, and presented as genuinely alarming, in its context, to any reasonable person. He was sentenced to 330 days for breach of the peace and 90 days for the contempt charge, together with 237 days unspent from a previous sentence, a total of 657 days. The sentences were not backdated and they were to run consecutively. It meant the total length of the sentence was one year, nine months and 18 days.
According to the ECHR media release, the court described Gough's case as troubling, but ruled that relevant and sufficient measures had been taken against him by the police and legal authorities which saw him arrested in 2011.
The ECHR said it was prepared to accept that arguments on the acceptance of public nudity in a modern society is a matter of public interest, but also noted that Gough's view is shared by very few people and that the matter raises moral and public order issues
The court stated that Mr Gough "Was also under a duty, particularly in light of the fact that he was asking for tolerance in respect of his own conduct, to demonstrate tolerance of and sensibility to the views of other members of the public.
"Without any demonstration of sensibility to the views of others and the behaviour that they might consider offensive, he insists upon his right to appear naked at all times and in all places, including in the courts, in the communal areas of prisons and on aeroplanes."
Mr Gough, speaking after the judgement to Press Association, described the judgment as a disappointment but somewhat ominously added, "I have no choice but to continue." He continued, "How can nature expressed in human form be indecent? How can any sane person be offended at seeing the human body?