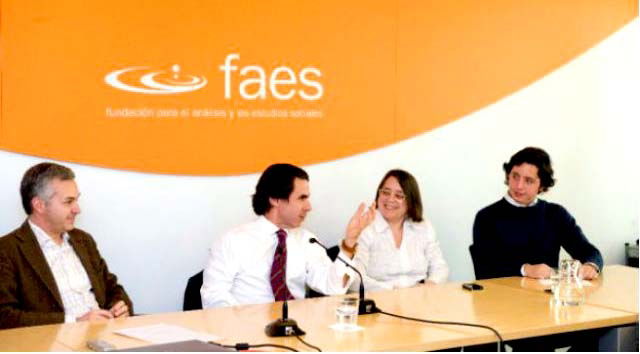 The enduring appeal of the Little Nicholás case continues to stump the Spanish media, who appear to be in a quandary as to whether they should proclaim Spanish student Francisco Nicolás Gómez-Iglesias, a fraudster or a business genius with an eye on the future. With all the hallmarks of an imposter movie, the story has now caught the International media's attention.
On first inspection, it looked like a case of an ambitious young chap pushing his luck and charm too far. It all began when Spanish Police arrested, 20-year-old student Francisco Nicolás Gómez-Iglesias, on October the 13th and charged him with forging official documents, passing himself off as an advisor to Deputy Prime Minister Soraya Sáenz de Sanatamaría and as an agent of Spain's secret service, the National Intelligence Centre (CNI), they additionally claimed that he is involved in a plot to dupe a businessman out of €25,000.
However, in the days following the hype, difficult questions began to emerge as to just how a 20 year old student could keep up such a jet-set lifestyle, and whether in fact the top-level connections he had boasted of, could actually be protecting him.
The Spanish media in full frenzy mode, have published photographs of the floppy haired Gómez-Iglesias, looking like a juvenile baddy in a  movie, as he shook hands with King Felipe following the coronation, as well photographs with senior members of the ruling Partido Popular (PP), including former prime minister José María Aznar.
Lawyers at Sunkel & Paz, the legal firm representing Gómez-Iglesias, say his contacts with the Royal family household, the PP and even the CNI are not only correct, but also verifiable. They claim that the person he is accused of swindling, who has only been identified by the initials J. M. H. refuses to press charges. It is alleged that Gómez-Iglesias was helping the businessman sell a property in Toledo, valued at €10 million, in return for a commission somewhere in the region of €200,000, and had asked J.M.H. for €25,000 to cover his expenses. Sunkel & Paz claim that Gómez-Iglesias had already returned €10,000 of the advance.
His lawyer, Víctor Sunkel, speaking to Spanish Daily, El Pais says, "He (Gómez-Iglesias) insists that he has these contacts: he has given the police detailed descriptions of the CNI's facilities." Getting to the nub of the case, Sr Sunkel opined, "What's more, nobody just gate-crashes the king's coronation."
Francisco Nicolás Gómez-Iglesias, was raised in Madrid's pleasantly middle-class Chamartín district, where he joined the PP's youth wing aged 15. A bright lad, he was soon noticed accompanying senior party figures at rather exclusive places, including the VIP box at the Santiago Bernabéu stadium.
A quick glance at his Facebook page reveals a veritable 'who's who' of the Partido Popular, and includes photographs of Gómez-Iglesias with senior politicians and leading Madrid business figures.
Envy and politics, often go hand in hand and it appears that during his dramatic rise to the upper echelons of society, young Gómez-Iglesias provoked the ire of some of his senior more established party members. One, somewhat put out, anonymous Madrid City Hall councillor, told El Pais, "I would turn up to events, and there he was, sitting in the front row, while I had been put back in the third or fourth." Regular attendance at meetings held by the FAES think-tank set up by José María Aznar, added to the ire of some of his erstwhile party members.
Yet, Gómez-Iglesias, who is enrolled at one of Madrid's top business schools, the CUNEF, has all the attributes to create political connections and establish links with senior businesspeople connected to the PP. Anonymous PP sources, possibly tinged with a green shade, say that in the last year he appears to have overstepped the mark when he began offering lobbying services, claiming that he could help companies win contracts with Madrid City Hall. It is alleged that Gómez-Iglesias used his association with Jaime García-Legaz, a former lecturer at CUNEF and subsequently Secretary of State for Trade, to pry open the doors that lead to public contracts.
The flag that caught the eye of the security services and the subsequent investigation into Gómez-Iglesias began last year when he somewhat naively used social media to announce to the world, that King Juan Carlos was due to have lunch at a restaurant in Lugo, Galicia. However, when hastily polished, suited and booted local dignitaries rushed to the restaurant in anticipation of pressing the Royal flesh arrived, they only found Gómez-Iglesias dining with a businessman. El Mundo newspaper reported that Gómez-Iglesias made the trip to Galicia in in some style, being chauffeured by a Madrid City Hall vehicle which was escorted by municipal police. Madrid City Hall, this week revealed that an officer who had accompanied Goméz-Iglesias to Galicia has been relieved of his duties.
If Gómez-Iglesias is a Walter Mitty – Frank Abignale Jr type character, the questions have to be answered. How could a 20 year old afford to pay the rather high fees at the exclusive CUNEF School and cover the costs of hiring luxury cars, complete with chauffeur? The complexities build when we discover that he is registered as living in a €5,700-a-month property in Madrid's elite El Viso district, in an apartment apparently owned by Prince Kyril, the son of former Bulgarian King Simeon. One solution may lie in the information his lawyers gave to El Pais, they say the real estate company looking after the house rent it to a construction company who supposedly hired Gómez-Iglesias to act as its public relations consultant.
The Judge in charge of the case has some pertinent questions to add to the fire, "All I can say is that I cannot understand how a young man aged just 20, simply on the basis of his verbal skills, has been able to access conferences and events without anybody raising any questions, even if he was a member of the PP's youth wing."
The truth, as it is said will out. No doubt plans for the film and probably a musical of this young man's already charming life are already in the offing.