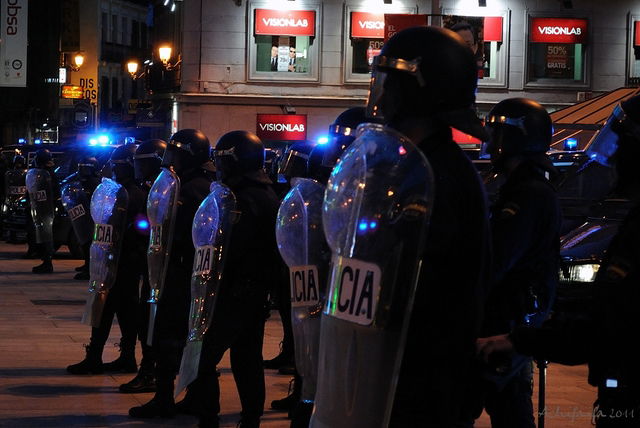 FOURTEEN people detained during streets riots in Madrid face prison sentences.
The Public Prosecutor's Office asked for a total of 74 years and three months in prison for the 14 people detained during the street riots that broke out after a protest organized on May 15 2011 by Democracia Real Ya (Real Democracy Now) and Juventud Sin Futuro (Youth Without Future).
The demonstration was the starting point of Movimiento 15-M.
Some 3,000 people participated in the protest from Plaza de Cibeles to Puerta del Sol.
Once it was over, at around 9pm, 300 protesters tried to clash with police, throwing blunt objects, setting up barricades, destroying street furniture and window displays. They went to La Gran Via, near Callao, and stopped traffic.
Police arrested 19 people, including an underage girl.
The accusation against four of the detained was shelved during the preliminary investigation. None of the other people charged, aged between 16 and 18, have a criminal record, but they stand accused of disorderly conduct, damages, resisting arrest, assault and attacking police officers.
The Public Prosecutor's Office is asking for prison sentences of over two years in all cases, except one, while 10 others face six years behind bars. They could also be sentenced to pay compensation.
One of the detained, identified as D.M.R, stands accused of throwing a large beer bottle at the police, without causing any injury to them, of burning and kicking bins and lifting and throwing a manhole cover against a store. If convicted, he could spend 18 months behind bars for disorderly conduct and 12 additional months for damages.
A defence counsel of two of the accused said the sentences are exaggerated and are being used to set an example.