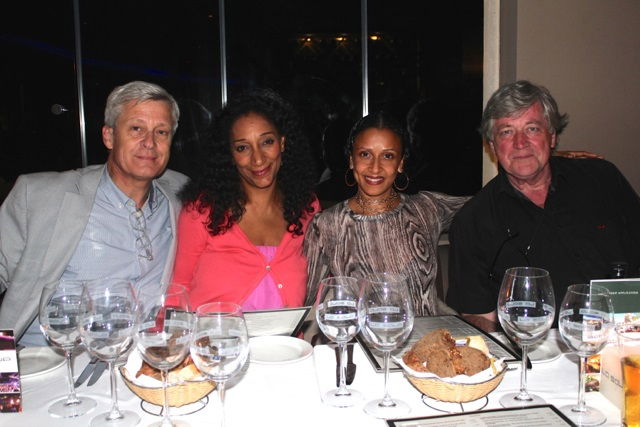 The soul and disco legends Sister Sledge, were spotted dining in La Sala on Monday night, 13 October.
Sister Sledge were one of the most successful female groups of the 70s and 80s. From Philadelphia, the line-up comprised Debbie, Joni, Kim and Kathy Sledge. Their biggest success came with the 1979 album and single "We Are Family", while other hits included "Lost In Music" "He's The Greatest Dancer" and "Frankie". Kathy left in 1989 but Sister Sledge continue to perform energetic stage shows and produce music. Sister Sledge have won in excess of 100 awards and have performed in 6 of the world's 7 continents.
Two of the members of Sister Sledge, Debbie and Kim Sledge enjoyed a dinner in La Sala Puerto Banus with their husbands and friends on Monday after performing in Puente Romano Tennis Club on Sunday, 12 October. Although it is not their first time to visit Spain, the talented sisters really enjoyed their stay in Marbella. "We have had an amazing time here. Today we have been shopping, having lunch on the beach and
enjoying the beautiful Marbella," said Kim. "And the dinner in La Sala was really lovely and we love the atmosphere here," she added. The group indulged in La Sala's famous dishes, such as the Traditional Prawn Cocktail, Crispy Duck Spring Rolls, Fillet of Steak Tartar, Fresh Sea Bass marinated in Ginger & Soy and finished their dinner with Crème Brulee and Iced Berries with White Chocolate Sauce.
La Sala Restaurant has truly become, 'the ultimate social and dining experience,' and is renowned as one of the busiest restaurants in Andalucía, an accolade successfully retained all year round not only during the traditional summer season. It´s unparalleled formula has attracted a mass of international media and confirmed its position as Puerto Banus' premium hotspot thus welcoming celebrity figures and playing host to an array of television shows and documentaries broadcasted worldwide.
In recent years La Sala has welcomed endless footballers and sports personalities including the likes of Chelsea's Ashley Cole, former Birmingham Captain Stephen Carr, Arsenal's Alex Oxlade-Chamberlain, Sky Sports' Rob Palmer, Harry Redknapp, Dwight Yorke, Chris Hughton, Ipswich's Luke Chambers, Newcastle United's Tim Krul, Leeds' Michael Brown as well as celebrities and television stars, Kym Marsh, Sir Alan Sugar, Prince Albert of Monaco, Jamie Oliver and the cast of TOWIE.