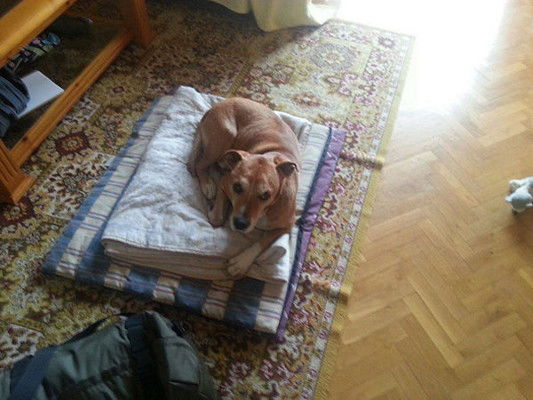 EUROWEEKLYNEWS Columnist David, the Dog Man, writes about Excalibur, the dog that was put down for having Ebola. Excalibur was the name of the legendary sword King Arthur pulled from the stone. Excalibur has gone down in history.
David writes:
When asked to write this article I obviously had to do research and believe me, this is the best information available.
Excalibur, a sandy-colour mixed-breed mutt, belonged to a Spanish nurse who was the first case of Ebola to be transmitted outside Africa.
The latest victim of the Ebola panic has not been tested for the deadly virus. But he lived with someone who has it.
Amid fear over the virus's possible spread in Europe, Spanish authorities say they'll take no chances with dogs. They will not test them. Instead, to play it safe, they will kill him.
The Ebola virus can be found across the animal kingdom, from bats and birds to pigs and porcupines. But there is a difference between having a disease and transmitting it to another animal—or another species. That's at the heart of a controversial move by Spanish health authorities, who have obtained a court order to euthanize the dog belonging to a nurse who contracted the Ebola virus in Madrid, saying that available scientific knowledge suggests dogs can transmit the virus to humans. But how much do we know about which animals can catch and transmit the deadly virus?
Dr. Tom Frieden, director of the U.S. Centre for Disease Control and Prevention (CDC), said in a news conference on Tuesday that "we know in rural areas of Africa, Ebola can infect mammals. In fact, that's how it spreads, from probably bats to animals living in the forest, people hunting the animals." Ebola has to date been found in many bush animals, including bush pigs, rodents, porcupines and forest-dwelling antelope. Any infected carcasses could spread the virus to hunters or to anyone who eats bush meat.
Dogs
Symptoms of the Ebola virus "there is absolutely no evidence to support a role for dogs in transmission."
The study also suggests that differences in behaviour and diet of pet dogs may alter risks in Ebola transmission. Whereas most dogs in Western Europe are fed dog food, many of the dogs studied in Gabon scavenged for their food, eating small dead animals that could have exposed them to the virus.